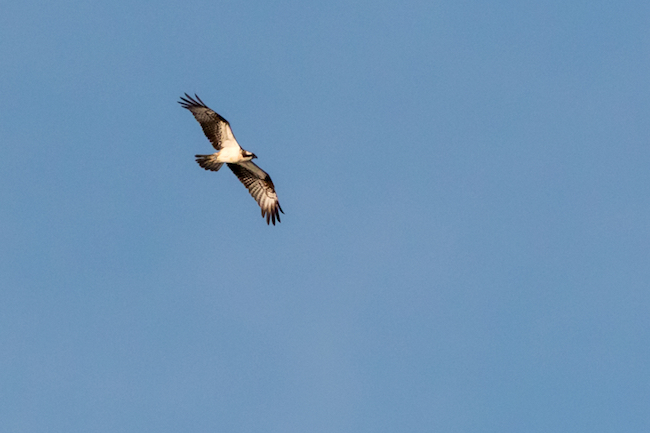 Osprey taken from the boat with a 70-200mm lens
The bird that Rutland Water is most famous for is the Osprey. It was the first place in England for 150 years to have breeding birds in residence after they were effectively wiped out in the 1840s by humans. They fared a little better in Scotland.
Due to their habit of coming back to breed near their own nest site, it can take a long time for the Osprey to spread out and increase in numbers. They badly needed our help! 
It was discovered that after constructing the reservoir at Rutland Water in the 1970s Osprey were stopping over during their migration from Scotland and Sweden, on route to Africa. Hoping to encourage them a nest platform was built, but before a full scale effort could go ahead there was lots of planning and red tape to get through. 
In 1996,  license was granted by Scottish Natural Heritage to translocate a number of Scottish chicks to Rutland where they were carefully reared with as little disturbance from their human carers as possible. By the autumn they left for sunnier climes, with everyone involved hoping they would return to their nesting area the following spring. Which they did!
Since then the Osprey have bred regularly, with the addition of a further group of all female chicks from Scotland boosting the numbers in June 2005.
Our visit in February 2018 was too early in the year to see these beautiful birds, but back in 2017 we made a special visit to Rutland Water especially for the Osprey.