We stopped at the Redshank, Grebe and Osprey hides, overlooking Lagoon 2, but we saw little from these. So we headed for the larger Lagoon 4 and the three hides there. 

From the Sandpiper hide, we soon saw a Grey Heron lurking in the reeds at the edge of the water. He never revealed himself while we were there, although one of the other ladies got a nice photo of him just after we left. That is always the way with birdwatching!
While we were in one hide, Mel Parsons, one of the group members, took a photo of me with my 100-400mm lens, which you can see on the about me page of the site.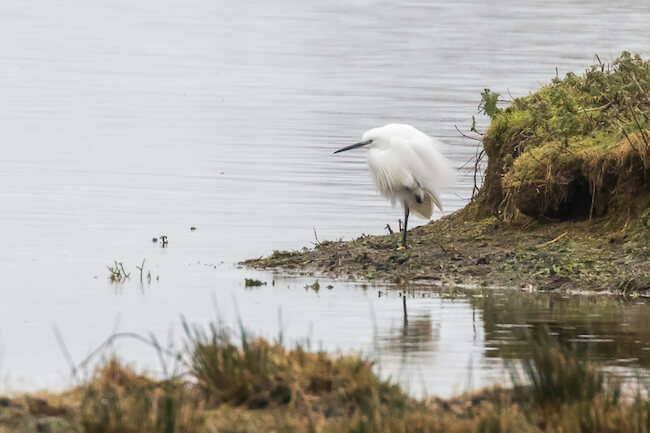 Little Egret
Shortly after, we spotted a Little Egret, with its feathers all fluffed up against the cold. As still as a statue, only moving when he saw a fish, he kept us entertained until we moved on to Dunlin hide.
Later I learned from the other ladies that there was also a Great White Egret on this lagoon while we were watching. This would have been a new bird to me, however, I have seen many since this trip to Rutland Water.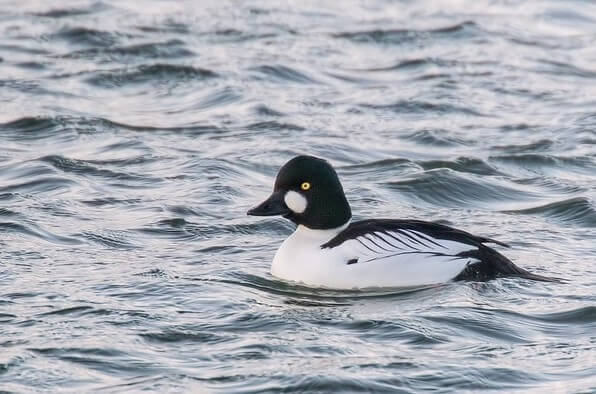 Male Goldeneye duck
The "normal suspects" of Mallard, Wigeon, Tufted Duck, Mute Swan, Greylag Geese, Coot and  Great Crested Grebe were out on the water, along with a solitary male Goldeneye.  
On a little spit of land just beyond the shoreline there was a Carrion Crow feasting on a fish, being watched by a lone Lapwing and a pair of Shoveler ducks.
"There are two redheads out on the far side" stated the other occupant of the hide. This term refers to female ducks from several species, so I asked him to confirm what he had spotted. "Smew!" came the answer. He kindly allowed me to look through his spotting scope at the ducks, as they were too far away for the naked eye to pick out. Although I couldn't photograph them, it was lovely to add them to my list of birds seen in 2018.
These beautiful birds only visit the UK in small numbers, mainly just in the East and South-East regions so it is a special moment when we see one. As with many birds, it is the male that is the most attractive, mostly white with thin black lines reminiscent of cracked porcelain, and we later learned there was one on the reserve that day, although it failed to show for us.