The years rolled on, I got married and had two lovely children. As they grew up they quickly became used to having a camera aimed at them.
These were the days when a roll of film had 24 or 36 frames and had to be sent away to be processed. The costs involved meant that only a few images of each "event" were taken and it was disappointing to find a week later that some were badly exposed or out of focus.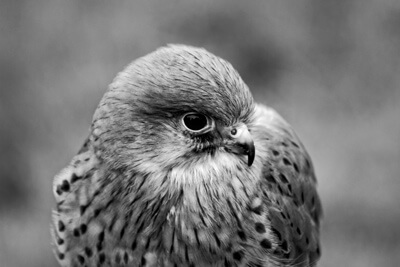 Captive kestrel - printed in the darkroom and later scanned
Therefore, I set up the spare bedroom as a darkroom so I could develop and print my own black and white photographs. Sadly, my husband got fed up with the smell of chemicals and a bathroom full of drying negatives, so that period of my "career" didn't last for long. I enjoyed it tremendously though.
At this time I was using a completely manual Russian Zenit SLR (single lens reflex) camera with a moderate zoom lens. Autofocus had not been invented and I had to rely on a handheld exposure meter to determine my settings. 
This equipment was not ideal for British wildlife photography, often resulting in a unrecognizable dot on the horizon. However, back then I enjoyed visiting zoos or wildlife parks, as the captive birds and animals were close enough to practise on. I rarely do this now, as finding a wild creature is a big part of the challenge and excitement in my view.