My first Canon DSLR
Cock Sparrow taken on the Canon 100D
By the time I could afford my "dream camera" the children had left home and were parents themselves. With no willing human models around, I turned my attention to the local wildlife with a vengeance.
I had picked a Canon 100D (known as a Rebel in the USA), because of its light weight and small dimensions. Coupled with a short telephoto zoom lens, I was at last able to get passable images of the garden and farmland birds that lived here in Cambridgeshire.
However, those into British wildlife photography always want to get closer, and so I regularly upgraded my gear as and when finances allowed. 
Building my skills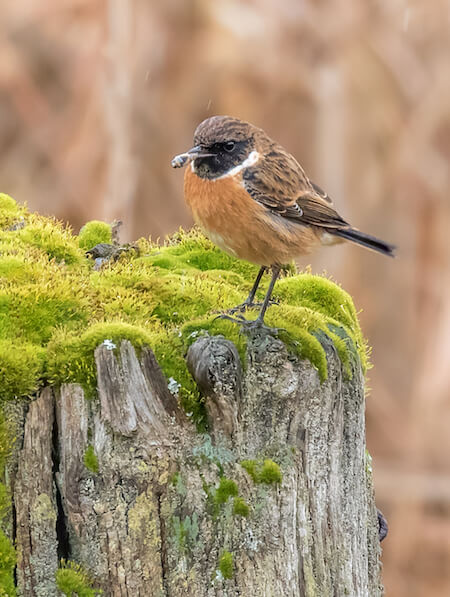 Male Stonechat
I soon discovered that success in British wildlife photography required more than a good camera and long lens combination. Practice, patience and determination were equally important! 
I can't text wild birds and animals to ask them to join me and pose. The best I can do is turn up at a suitable location and wait for them to show up. And continue to wait. Sometimes for hours! Hoping a bird will perch in the perfect spot to have its portrait taken takes a lot of patience. It can also involve getting up and out in the countryside early in the morning, sometimes before the sun is up, while the birds are active and wait for the wonderful light.
If I am lucky, I might get a glimpse of the elusive creature I am hoping to see. On a good day, I might even press the shutter button before the animal or bird disappears. 
Imagine the elation when I got a sharply focused, well exposed critter.
The decisive moment in British wildlife photography
Last but not least is capturing the wildlife at the right time. I attempt to take the picture when...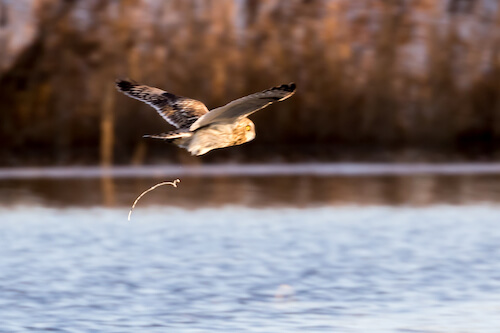 Short-eared owl "pooping" in mid air
The creature is doing something interesting
It angled its head towards the camera instead of turning away
The eyes of the creature are visible and catch the light
There is interaction between multiple subjects if possible
There is nothing distracting around the edges of the frame or in the background
There are no distracting elements between the creature and the camera, such as a grass stem
There is enough light to ensure a fast enough shutter speed to freeze the action
The sun is not causing parts of the animal to cast distracting shadows
The sun is low in the sky (golden hour)
I don't always succeed, but when I fail I am more determined to get it right, the next time I go out. 
As I progress in my pursuit of British wildlife photography, I challenge myself. Whether it be birds in flight, mating behaviour or photographing a rare species, there is always something out in the countryside calling my name.