Capturing Magical Wildlife Moments: Tips for Golden Hour Photography
Golden hour photography is possible when the sun is at a low angle in the sky. This happens twice a day, just after sunrise and just before the sun dips down over the horizon. Catch it right and the soft diffuse light will add attractive warm tones to your wildlife and nature photographs. It doesn't last long so you will need to plan ahead and get into position in good time.

Depending on the time of year...
...this can mean some early starts!

I learned this lesson one freezing cold morning, when we got up around 4 am in order to reach our destination. We got in position just as the sun was rising over the water! You can read the exciting story of this very special trip to Nene Washes and view the results of my first golden hour photography session here.
Short Eared Owl
Plan ahead
The important thing is to be in a good position and patient, as nature doesn't necessarily wait for us! Plan ahead.
There are phone apps that will tell you the times of sunrise and sunset for your location while giving you a visual indication as to where this will happen on a map of the area. They can be invaluable both when planning a trip and when actually arriving at your destination.
Of course, if you are revisiting an area you will already have this knowledge and know the best place to position your camera.
One of my favourite golden hour photography sessions didn't even involve leaving home. This photo of a little Dunnock on the hedge in our front garden was taken through the lounge window!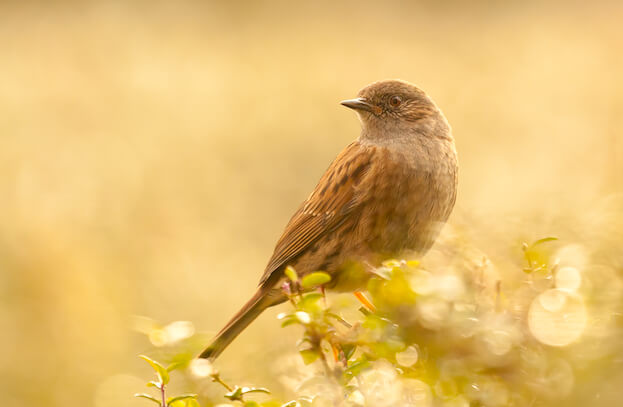 Dunnock on the garden hedge
As in the above photograph if you have your background a distance away from your subject you can benefit from soft, out of focus "bokeh" as well as the golden light even without an expensive fast lens.

Get Local Knowledge
If you are staying in an area for a while you can afford to spend the first day checking out possible viewpoints.
Check on your app, or with locals, to find out when sunrise or sunset occurs and where you need to be to see it at its best. If you are lucky there will be a hide positioned in the perfect spot, but if so it is likely to be popular with local photographers so you might need to get there early to get a seat.
There could also be somewhat of a hike to reach it. Again checking it out in daylight the day before is a wise move if you haven't been somewhere before.
On our first trip to Spurn Point it took us until Day 4 before getting the weather and our timing spot on. We arrived at Kilnsea Wetlands and parked up, then walked to the hide to capture the wading birds before they set off from their overnight roost here back to the Humber mudflats to feed. I tell this story on my Spurn Point page.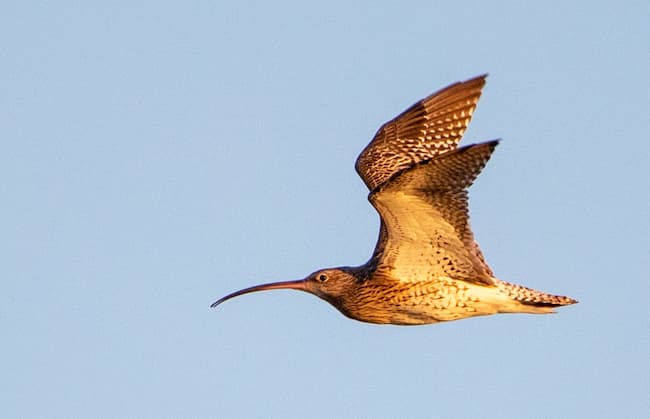 Curlew flying during Golden Hour
Bamburgh Sunrise
If you are traveling with others, keep in mind that they may prefer sleep to golden light photography. I know, mad isn't it? One option you have is leaving them in bed and heading off on foot.
I did this one morning on a holiday in Bamburgh, Northumberland, the most northerly county in England. My mother was accompanying us and I knew she wouldn't be up early. So I quietly left the cottage and headed down the main coastal road.
It was dark but there were street lights for this section of my walk. I passed the church where the heroine Grace Darling was buried and found the narrow side street I was looking for.
Upon eventually reaching the beach, I headed out over the sand towards the sea, before turning around to look back inland. I wasn't alone, but my only companion was not a bird this time, but a fellow photographer who had walked out further than me. I wasn't concerned as I was not in his eye-line.
In front of me was Bamburgh Castle, swathed in golden light. The light was reflected in the saltwater pools on the sand, and in that instance, I knew my walk had been worthwhile. Although by the end of the day my feet were complaining about the extra 4 miles I had walked above and beyond my companions!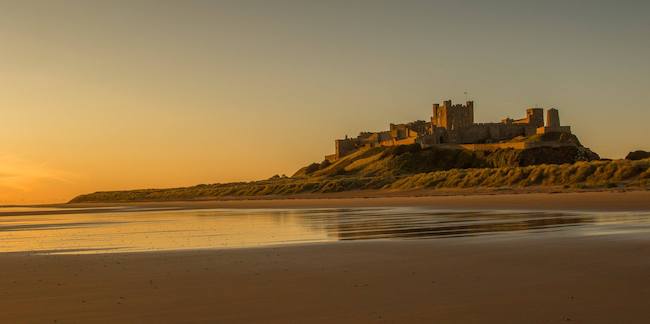 Bamburgh Castle at sunrise
What to Photograph During Golden Hour
Early morning light helps to accentuate the beauty of the natural world around us and often we notice more because of how low the sun is in the sky. The soft light produces wonderful silhouettes of tall objects such as grasses and trees.
Animals are also more likely to be out and about at sunrise as this is when they are most hungry. The early light offers reduced competition from other hunters making it safer for them.
After sunset, the underexposed sky creates a wonderful blue colour for skies and water, which seems to make the paler colours of birds stand out in contrast. This short period has its own name, Blue Hour, although it rarely takes a full hour before complete darkness falls.
Golden hour is a chance to experiment with techniques as well as subject matters.
Golden Hour Photography Gear
There are four pieces of equipment I feel you need in order to shoot golden hour photography:
A camera with a manual exposure option: This allows you to choose the correct exposure for the light you are shooting in.
A tripod: A tripod is essential as although the golden hour is beautiful, the light levels are low and therefore require longer shutter speeds.
A remote trigger: This allows you to trip the shutter without touching the camera. This can help you to avoid camera shake when shooting in low light conditions, especially when using a long exposure.
A suitable lens for your subject matter: If you are shooting castles or landscapes a wide-angle lens is perfect. For wildlife, you will want a long lens with as wide an aperture as you can afford/carry.
Having said this, however, it's worth remembering that good quality shots can be taken with any camera in the right hands - so just use what you have available!

Tips for Golden Hour
Golden hour photography offers a great opportunity to capture stunning images, but if you want to capture something special for your wall at home you will need to keep in mind that light plays an important part in this so here are some tips to consider:
Wide-open aperture: The small amount of light available during golden hour means that you will want to shoot wide open to allow what there is to reach your sensor.
Shutter speed: Action shots during this period of the day will be problematic as your shutter speed will tend to be low. Pick something static or slow-moving for best results.
Panning: If you want to capture action, try moving your camera at the same speed as the subject, such as a flying bird. You can get away with slower shutter speeds this way.
In Closing
Have you been on a dawn or dusk walk with your camera? What tips would you add to our list? Feel free to share your experiences by using the form below.

Have A Great Story About This Topic?
Have you taken photos at Golden Hour? Share them here for other visitors to see. Do ensure that you own the copyright of the images as we cannot publish those belonging to someone else.