Taking photos of dragonflies and damselflies is one of my favourite summer pursuits. I say summer, but my first sighting of 2018 was in early May, and some species can be seen as late as October. They make great subjects for my camera when the bird life I photograph at other times of the year is harder to spot on my country walks.
These insects pose many challenges of their own though, not least of which is finding them to photograph! 
But when I get results like the image above, it is worth the challenge! This was the bright spot of a walk that never happened. We were headed for a new nature reserve and although we must have driven past it twice, we never found it. We ended up stopping in the town of Oundle, and walking down to the river Nene from there instead. I can't call the day a failure though after getting this, one of my favourite damselfly photos ever!
Where to Take Photos of Dragonflies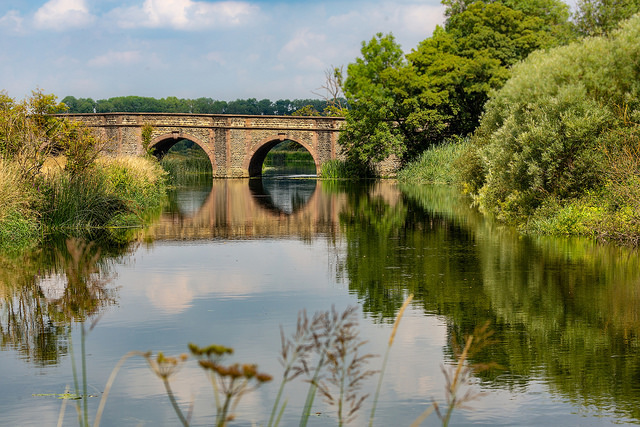 River Nene, Oundle, Northants
I find heading for fresh water habitats is a good place to start when aiming to take photos of dragonflies and damselflies: rivers, lakes and ponds. However, I don't look just on, or at, the water's edge. Meadows and wasteland close by can be hiding these little treasures.  Having explored the local areas for a few years now, I have built up a knowledge bank of where I am likely to see different species and at what time of year. 

My husband accompanies me on many of my nature walks, but when I am concentrating on dragonfly photography it can end up being rather boring for him. He can often be heard saying to other walkers "We don't travel at miles per hour, but hours per mile!"
Scanning the undergrowth for tiny creatures is not a speedy undertaking, especially when you need to look up high and down low, not just at eye level. 
Better Backgrounds
Although a patch of stinging nettles may be a favourite place for a Banded Demoiselle, you have to admit that a pretty flower would make for a nicer photograph. So once I locate a subject I bend and stretch, twist and turn, to see if I can get the best possible background for my images of dragonflies and damselflies.
Working at close distances most of the background is going to be out of focus. However, any variation in colour or tone is going to stick out like a sore thumb so I try to keep it as even as possible. Moving a tiny distance to one side can put something completely different behind the insect making for a better picture. Often it is best to exercise patience and hope that it will land somewhere more suitable.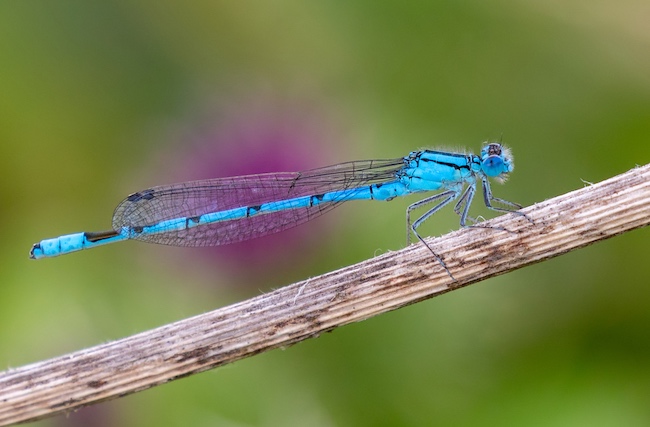 Common Blue Damselfly with out of focus flower in background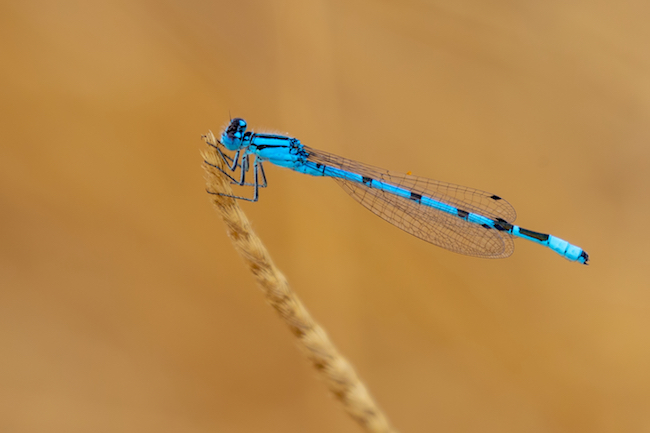 Common Blue Damselfly with even background
The colour of a background can make a difference when taking photos of dragonflies and damselflies. The green background, with purple flower are analogous colours (from the same side of the colour wheel) and they blend nicely together. In contrast, orange is the complimentary colour to blue and the second picture has more vibrance. Both work, but which do you prefer?
Natural backgrounds are best, in my opinion, but not always possible. Wooden fences and other man-made structures are less distracting than a jumble of vegetation,  but  not that attractive.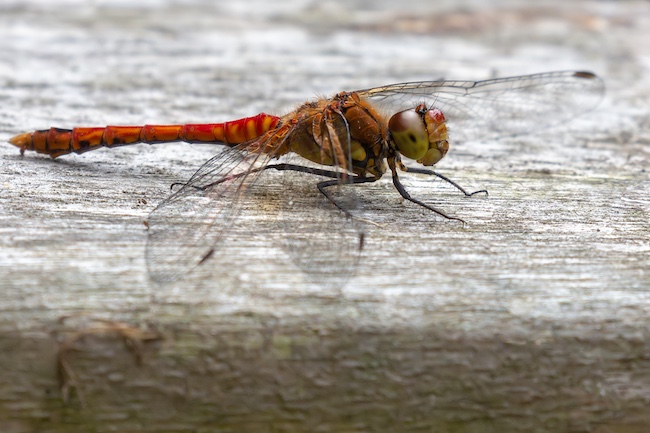 Ruddy Darter on picnic table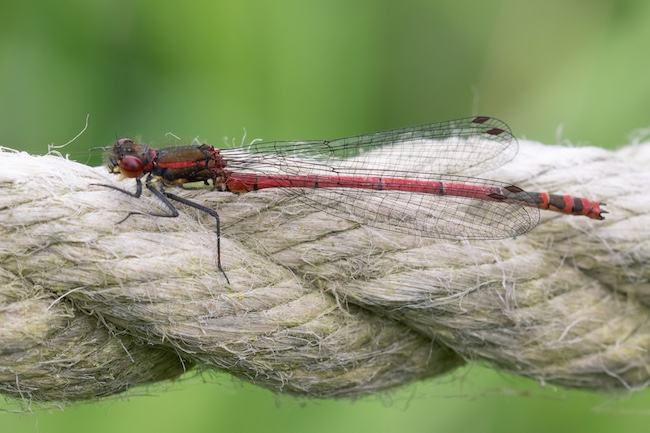 Large Red Damselfly on rope fence