Barnwell Country Park, in Northamptonshire, is only a short distance from my home and therefore one of my regular walking routes for recording northants bird sightings.
As it is relatively small, I can walk around the whole park in a morning. Although that rarely happens, as I end up making numerous stops to photograph the wildlife along the way. There are five lakes with pathways in between. The river Nene backwater runs along two sides of the park and the road to the market town of Oundle borders the third.
Popular amongst bird watchers and other naturalists as it is within easy walking distance of the town centre and the main shopping area.
There are two birdwatching hides, which my American friends will know as blinds and two viewing screens. They provide somewhere to watch the wildlife while remaining somewhat hidden.
In addition to viewing birds and other wildlife, the park also offers educational opportunities to the younger members of the community. Such activities include pond dipping, pond dipping, bug identification, wild flower and tree identification and much more.
The LowLands Hide
Wildlife to see
This hide is my first stop when walking around Barnwell Country Park, as it is only a short stroll from the car park. It overlooks the Lowlands Wildlife Refuge and food is supplied for the wild birds.
The benches are not locked to the floor as they are in some hides. This means if I am the only occupant I can position the tallest bench at my preferred "window".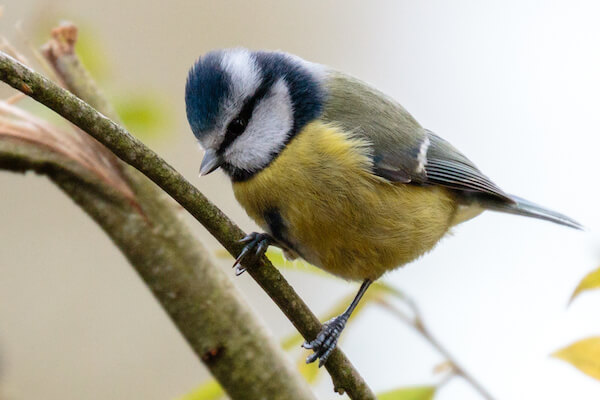 The wildlife I have photographed here includes...
Blue, Great and Marsh Tits
Dunnock
Reed Bunting
Nuthatch
Mallard Duck
Common Pheasant
Bank vole

Chaffinch
Robin
Tree-creeper
Magpie
Mandarin Duck
Grey Squirrel
Red Kite
I missed a Yellowhammer here one morning. The other occupant of the hide was keen to show me the picture he had taken minutes before my arrival. In all my visits, I have never even got a glimpse of one of these birds at this reserve.
Photography Tips

The hide has openings on two sides, allowing good views of the wildlife. The wider of these looks out on water with trees beyond. On your right is a smaller opening which looks out on the feeding area.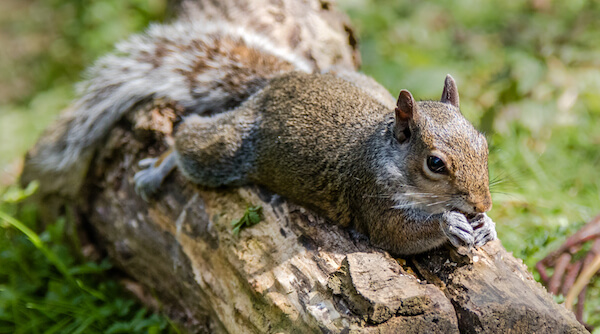 Chilled out grey squirrel
Logs positioned close to the hide present more attractive photo opportunities than the hanging feeders. Nuts and seeds stuffed into the crevices encourage wildlife visitors.
You won't need an extra-long telephoto lens, a 100-400mm, or equivalent, will be sufficient to get close-ups. 
Robins will sometimes perch on the ledges, but you will need a close focusing lens to get a shot like the one below. The trees in the background are at a distance allowing soft out of focus backgrounds like in my photo below.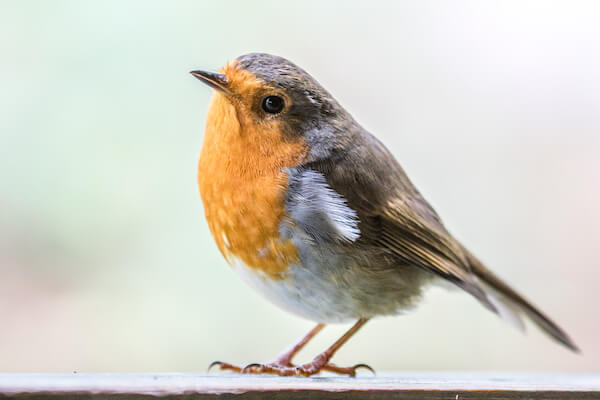 I saw my first Kingfisher from this hide. I was so excited I forgot to check the settings on my camera!  A shutter speed of 1/60th of a second wasn't fast enough, resulting in blurred photos.
The surrounding wooded area means the light levels at this hide can be low. This means increasing the ISO (International Standards Organization) or sensitivity of the camera's sensor to get fast enough shutter speeds.
The downside of doing this is the noise (or grain) apparent in the photos. If I get the exposure wrong and have to lighten it on the computer the noise increases.  I often overexpose by up to one f-stop to avoid this problem. The technical term for this is "exposing to the right". 
---
Barnwell country park - The KingFisher hide
Walk down past the children's play area and you will come to a little bridge that crosses the lake. Just beyond is the Kingfisher Hide. The light levels here are better for photography.
The hide faces Little Lake which is a popular fishing area for these attractive little birds. You have to be sharp eyed to spot the flash of blue and orange plumage!
It takes patience to get a sighting and then it is likely to be a distant one. Even my longest lens hasn't quite got enough reach to get a good shot in these situations.
In August 2017, I was in for a treat. I waited and watched for over 2 hours, but no sign of the kingfisher. When it was time to pack up and head home, I turned around, reaching for my camera bag, and spotted my quarry perched on the tree beside the hide!
Grabbing the camera I got two frames before he flew off. The photo below was one of these and it won me Runner Up in a local newspaper's photo competition.
A tree-creeper frequents a tree to the right of the hide, and I have spotted other birds such as Blue, Great and Long Tailed Tits, Robins, Nuthatch, Carrion Crows and the occasional warbler nearby. 
Various ducks,  Grey Heron, Black Headed Gulls, Greylag and Canada Geese, Great Crested Grebes, Cormorant and Mute Swans are amongst the birds I have seen on the lakes. One Christmas morning I was also lucky enough to see otter fishing here.
Red Kite fly overhead, alerting me to their presence by their mewing call. Not that long ago these birds of prey were almost extinct but I see them on most visits now. I also see Buzzard and Kestrel passing over the park.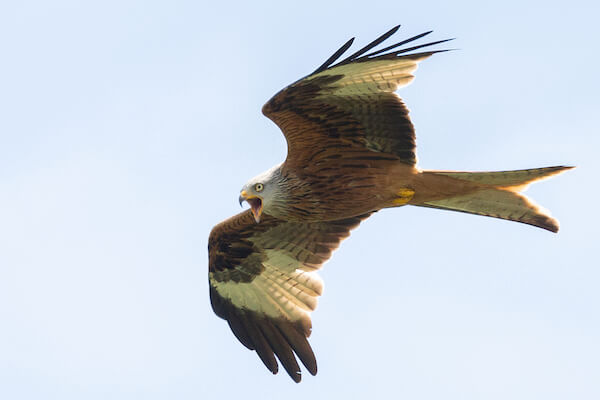 ---
Barnwell's Breeding birds
Mallards, Mute Swans and Great Crested Grebes breed each year at Barnwell Country Park. 
Swans mate for life and are very protective of their young families. The male, or cob, is diligent about keeping the Canada Geese away from the cygnets, rushing at them hissing, with wings raised until they fly off.
The pen (female) tends to the cygnets' needs with care and attention. I could almost see her teaching her little one right from wrong in the photograph below, taken in June 2017.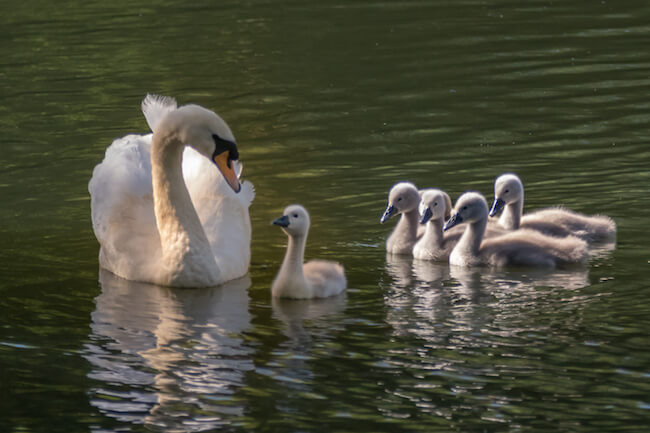 Mute Swan family
I have witnessed a pair of Mandarin Ducks mating, but sadly no Mandarin ducklings at Barnwell Country Park.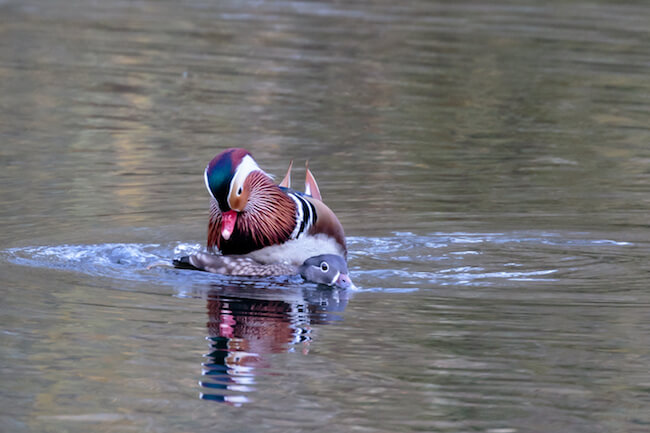 Pair of Mandarin ducks mating
I followed the nest building and rearing of young Great Crested Grebe at Barnwell in 2017 and devoted a separate page to them.