I have photographed Blue, Great and Marsh Tits, Chaffinch, Dunnock, Wren, Magpie, Tree-creeper, Robin, Reed Bunting and Nuthatch on and around the feeders in this area. I try to avoid including the feeder in the picture if possible.
I missed a Yellowhammer here one morning. The other occupant of the hide was keen to show me the picture he had taken minutes before my arrival. In all my visits, I have never even got a glimpse of one of these birds.
There are logs close by, that present more attractive photo opportunities than the hanging feeders. Nuts and seeds stuffed into the crevices encourage the birds to land and investigate.
It's not only the birds that take advantage of the free food,  the grey squirrels also enjoy the feast!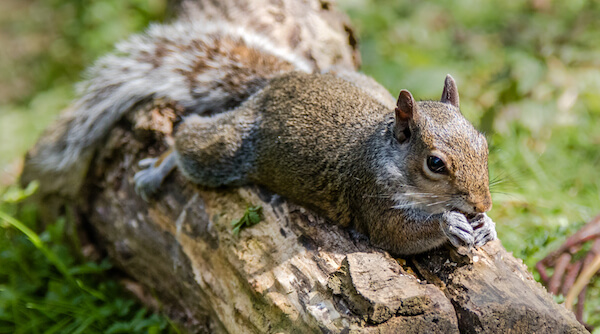 Chilled out grey squirrel
Many hides claim a tame robin, and the Lowlands Hide is no exception. He sometimes joins me inside the hide, hopping around the benches looking for treats. With my long lens on the camera he is often too close to focus on! When I manage, as in the photo below, I get a lovely soft background as the distant foliage behind the robin is out of focus.