His Majesty the Purple Emperor
My first ever Purple Emperor
The park is one of the few areas in the country that is home to an elusive butterfly, the Purple Emperor. 
We had often ambled through the woods searching for that flash of iridescent purple, but without success until one very special day. My birthday! This is in July and it is also the month that the Emperors are on the wing.
They are not easy to spot mainly because their realm is at the top of oak trees. When they do come down from the trees they tend to head straight for a muddy puddle, a pile of faeces or even a rotting corpse rather than sweet smelling flowers. In fact, due to their disgusting habits, some enthusiasts have been known to bait them with rotting food or smelly cheese.
That particular day we had set off early to Fermyn Woods Country Park full of hope as usual.
After a long trek through the woodland rides we eventually turned back, despondently. Rounding a bend, we spotted a small group of people sitting and laying on the damp earth to the side of the path. The hum of excited chatter and the clicking of cameras indicated to me that the elusive quarry had been found! Sure enough sitting in a puddle was a male Purple Emperor drinking the muddy water. 
I dropped to my knees and joined the throng of delighted lepidopterists (people who study butterflies and moths) waiting for him to open his wings and offer a tantalising glimpse of purple.
I didn't have the ideal lens with me for the purpose but I wasn't going to let that stop me from getting a "record shot" to prove I had seen him. Words can't describe the wonder of that encounter, I was definitely smitten with the "bug". 
By the end of the month they were all gone so I had to wait until the following year for my next sighting. Having done more research this time, we headed out on the 1st of July for a particular area of the wood where His Majesty had been spotted. It was a long walk and a stinking hot day but this time we were well rewarded.
I managed to find the first one myself, perched on a bush which was a nicer background for photography than a puddle. Within seconds of setting up the camera on the tripod a Silver Washed Fritillary flew into frame and chased off the Emperor. I was ecstatic to capture photos of the full sequence.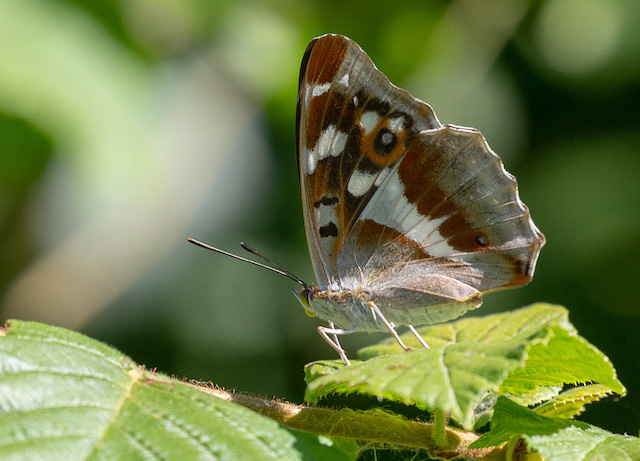 Purple Emperor
In flies a Silver Washed Fritillary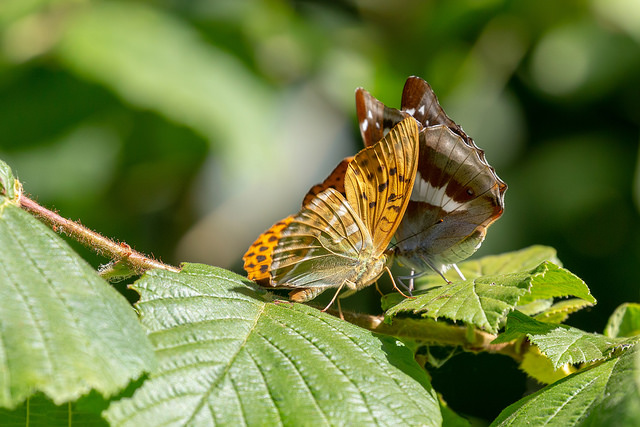 "I want to perch here!"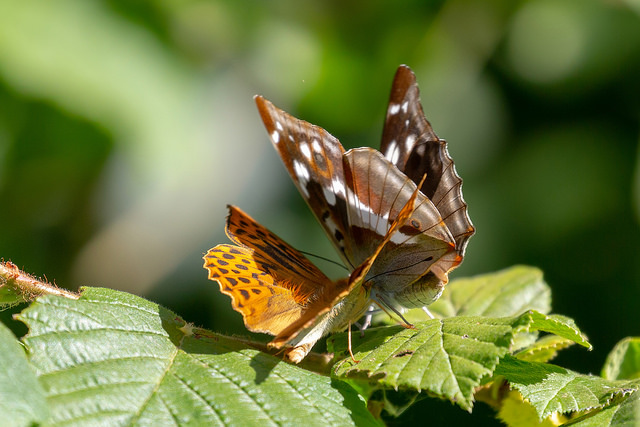 The Emperor departs
Heading back to the main path we met the butterfly paparazzi, in the now familiar seated position, photographing another male Purple Emperor. I lay on the ground, which was dry this time, and succeeded in getting much better photographs than the year before. Eventually my husband had to drag me away or I would have been there all day!  Never fully satisfied, you can be sure that I will be back to Fermyn Woods Country Park next year to hopefully find his Majesty again.