New James Fisher Hide and Scaldwell Hide
Hubby eventually dragged me away from the Egret and we walked on to the next two hides which are reached by the same boardwalk. They give slightly different angles over Scaldwell Bay. This was handy as all we could see from the first were silhouetted birds. 
Scaldwell Hide offered a close up of a Lapwing, but I had to wait until it turned, so the light illuminated its plumage. When we first moved to Cambridgeshire in the 1980s there were huge flocks of these birds in the fields around us, but sadly that is no longer the case.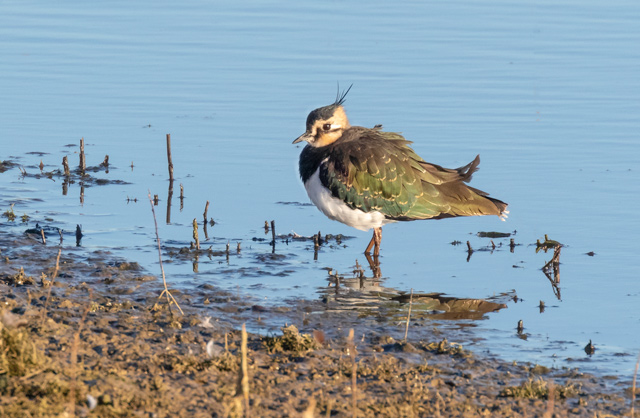 Lapwing (also known as Green Plover)
We didn't linger long here.  Opening the hide door we encountered a male pheasant walking down the boardwalk towards us. He changed his mind when he saw us and sauntered back in the other direction. 
Sadly for us it was also time to change direction and head back to the car. Maybe next time we will get as far as the Bird Ringing Hut and maybe Willows Hide which offers views of Scaldwell Bay from the opposite shore. This will then leave 3 hides around the Walgrave Bay to check out on another visit. 
On our return we popped back into the Bird Club Hide to see what else was about. I am so glad we did as Pitsford Water had more to give.  Swimming past was a pair of Red Crested Pochard, a species not often seen in our area. I waited for the light to shine on them and took what I thought would be my last photos of the day.