Nature in Cambridgeshire
Interested in the nature in Cambridgeshire, and want to get "off the beaten track" and discover all this wonderful county has to offer? Get ready to start exploring!
Rural Cambridgeshire boasts the lowest point in England, meadows, woodland, wetlands and of course the fens with their rich, dark, fertile soil, known locally as "black gold".
Sunrise in the Cambridgeshire Fens
I'd like to introduce you to some of the countryside walks in the area. Rambles which have become favourites of ours, since my husband and I moved here in the early 1980s, along with exciting new routes that I am sure will join them in the future.

We make a good team, as two pairs of eyes are always better than one. Roger scans the vista with his trusty binoculars while I photograph the landscape, birds and other wildlife that we find on our travels. I then share those images on the pages of this site so that you can come along on a virtual walk with us.
The Fens
We are lucky to live in one of the four counties in the East of England known as fen country: Cambridgeshire, Lincolnshire, Norfolk and Suffolk.
At first glance you will notice flat, arable land with very dark soil, and views as far as the eye can see. But turn the clock back and the fenland would have looked very different. It would have been covered in water and vegetation, making a wonderful habitat for wildlife. Drainage for farming, via ditches and water pumps, has left very little in its original form - but what remains is precious.
Destinations you will want to check out include...
Holme fen
Woodwalton Fen
Wicken Fen

 
The Great Fen Project will eventually join up Holme Fen (where I took the picture at the top of the site) and Woodwalton Fen, to create a new nature reserve. On the other hand, one of the oldest reserves in England is Wicken Fen, run by the National Trust.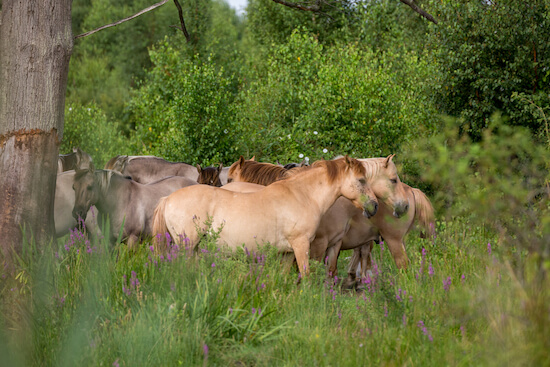 Konik ponies at Wicken Fen
The Washes
Areas adjacent to the Rivers Ouse and Nene are deliberately flooded when necessary. This washland provides habitat for large quantities of wildfowl and wading birds in the winter months, while protecting towns and farmland from excessive water.  
Both the Ouse Washes and Nene Washes are straight walks, so you can go as far as you like and then turn around. If you are looking for wildlife and nature in Cambridgeshire these are both ideal locations and could even enable you to add some new species to your bird list. My own list has grown from the addition of Common Crane, Cattle Egret and Short Eared Owls at Nene Washes for example.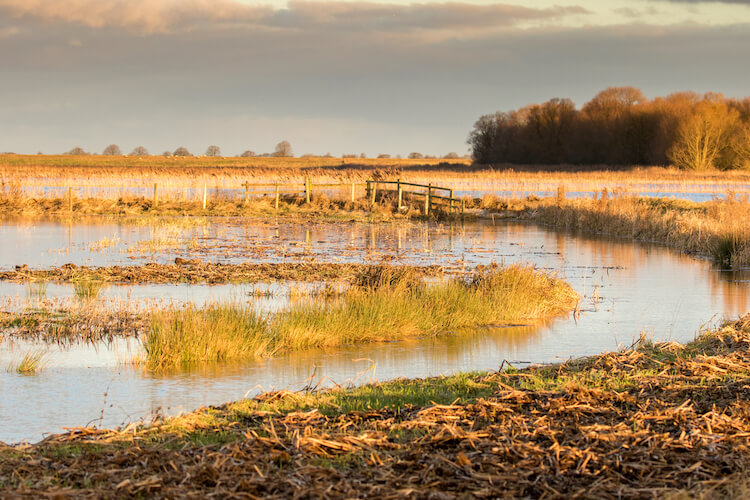 Sunrise at the Nene Washes
Nature in Cambridgeshire woodlands
Woodland walks in the area offer delights that you won't want to miss.
If you want to see wild bluebells one of the best places to go is Brampton Wood. This is the second largest ancient woodland in the county. It is at least 900 years old and was mentioned in the Doomsday Book. 
Monks Wood, the largest in the county, has been a National Nature Reserve since 1953. It is famous for being one of the countries top sites for beetles, and another place to find wild bluebells and possibly Nightingales in the spring. 

You will find the largest Silver Birch woodland in Britain at Holme Fen. We arrived at this part of the fen early one misty morning. It was silent and utterly enchanting, just like I imagine a magical forest to be. The ethereal silvery white trunks slowly faded as you looked into the distance. Just beautiful.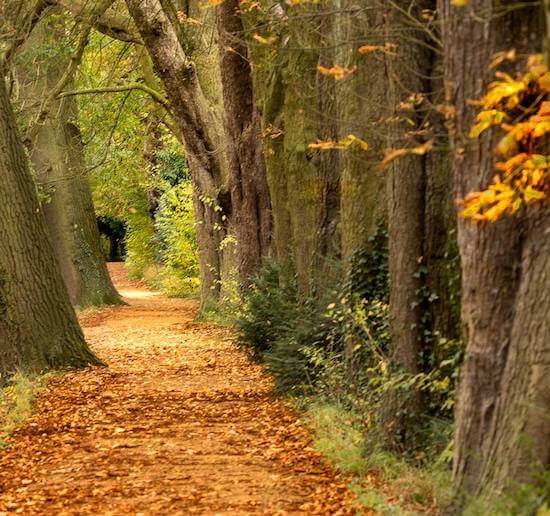 Hinghingbrooke Country Park in autumn
Lake, pond, mere, river or stream?
I struggled for a single term that covers the various bodies of water in the area. 
The fenland, before it was drained, contained shallow lakes known as meres. The largest lake in lowland England, Whittlesey Mere (also known as Whittlesea), at one point six miles wide, was drained in 1851. It became known as England's Lost Lake and Paul Middleton wrote a fascinating book about it in 2018 which is available from Amazon (affiliate link). 
Small meres still remain in the Holme Fen and Wicken Fen areas. You may be lucky enough to see Marsh Harrier hunting over these, and they are home to birds such as bittern and mammals including otter and water vole. 
Little Egret at Grafham Water
The largest piece of water to visit in Cambridgeshire is Grafham Water. This reservoir has a section designated as a nature reserve, a haven for wildfowl.
Many of the "lakes" and ponds in the county are old gravel pits which have filled with water. They are now managed as local nature reserves and some have gained SSSI status (Site of Special Scientific Interest).
Some of our favourites include...
Godmanchester Nature Reserve
Hinchingbrooke Country Park
Ouse Fen Nature Reserve
If you are interested in nature in Cambridgeshire you will want to include Fowlmere on your list of places to go as it holds a chalk stream, one of the UK's rarest habitats. Fed by natural springs, the stream supports brown trout while water vole and otters are also regularly seen in the area.

The River Great Ouse
You might not expect a busy Cambridgeshire town to be somewhere to take a nature walk, let alone house rare wildlife. But Holt Island, in the centre of St Ives, is one such place. The island is reached by crossing a small, white bridge, and has a raised boardwalk so is accessible to all, but only at certain times of the year. I was delighted to find and photograph the Willow Emerald Damselfly in the trees here. 

Meadow walks
Do you enjoy walking by a river through a meadow full of wildflowers, butterflies and dragonflies? Me too, and there are plenty of places to do this in Cambridgeshire.
Paxton Pits, which I mentioned above, has a nature trail that runs behind the visitor centre and through the meadows. Signs advise you to keep to the pathway, but you can still enjoy the wildlife that the habitat has to offer.
You can chose to take the shorter walk, which leads through the meadow beside Rudd Lake and then takes a circular route around Hayling Lake before retracing your steps through the meadow.
Or you can enjoy a longer hike by skirting one side of Hayling Lake and then turning along the path between Cloudy Lake and the River Great Ouse, continuing through the Great Meadow and The Paddock until you turn left beside Peter's Field to reach the far end of Heronry South Lake, before heading back to the Visitor Centre. This is a lovely walk if you enjoy photographing dragonflies.
But if you are looking for a wilder walk I recommend visiting Houghton Meadows.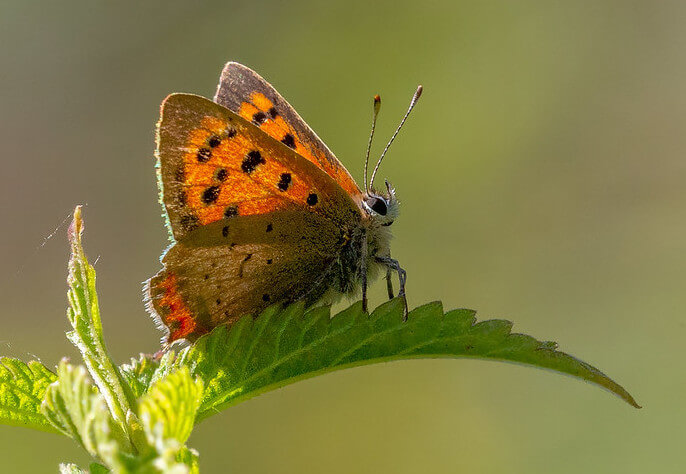 Small Copper butterfly
Head North to the village of Houghton, in between Huntingdon and St Ives, and you will find Houghton Mill. As well as the mill itself, this National Trust destination offers a number of walks around Houghton Meadows, which are in fact a mix of ancient hay meadows and pasture land beside the River Ouse. Depending on your route you may need to cross some foot bridges. The walk offers some lovely views across to the village of Hemingford Grey and St James' Church.
The meadows in this area are alive with butterflies, dragonflies and damselflies. On the other side of the river is a field that often contains a herd of Alpaca, which are fun to watch. Keep in mind that once the hay is cut in July, dogs are not allowed on the Nature Reserve. 
Your turn to enjoy the nature in Cambridgeshire
Enjoyed your virtual tour covering some of the nature in Cambridgeshire and discovering where you can go to see it? Don't forget to get out there when you can, to experience the varied habitats and wildlife on offer in this county.

Did you like this page?
Why not show your love by clicking on the button below?