Monks Wood Nature Reserve
Monks Wood Nature Reserve
Introduction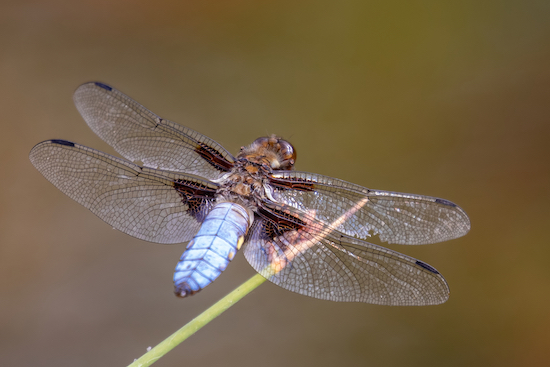 A visit to Monks Wood Nature Reserve will take you to the largest piece of ancient woodland in Cambridgeshire. In fact it is so big that it is easy to get lost, especially if you venture off the main pathways, known as "rides" which criss cross the wood.
We rarely meet anyone else in the wood, perhaps due to the limited parking available nearby, or maybe because it is not very well known even though it has been here hundreds of years!
It was given its National Nature Reserve status in 1953, and 10 years later a research station was built beside the wood to study the flora and fauna of the area. Back then you had to have a permit to enter the wood, and these were in short supply. Although a permit is no longer required, many people don't realise this.
So what is in store for you in the woods? 
There is room for the kids to let off steam along the meandering mown "mazes" of the wider rides. These serpentine routes have a purpose and were not created by drunken mower drivers! They allow ground cover plants to grow at different rates. If you return after the next cutting, you will find the maze has changed.
Leave the main rides and take the narrow, wilder pathways to discover ponds (there were 16 back in 1973, but many have dried up) and a multitude of wildlife. 
Wildlife in Monks Wood Nature Reserve
Beetles, butterflies, and other bugs
The reserve is famous for being one of the top sites for beetles in the UK! Over 1000 have been recorded here, including such treasures as the Rhinoceros Beetle, various types of Longhorn Beetles (such as the Yellow and Black Longhorn which is particularly attractive) and Ground Beetles, along with lots that have never been given common names. I will mention Ladybirds here, as they are also beetles!
If you look carefully you will find caterpillars of various types, and later in the year these have changed into beautiful moths and butterflies including Marbled White, Speckled Wood, White Admiral, Silver Washed Fritillary, Purple Hairstreak, Black Hairstreak, Common Blue, Brown Argus and Brimstone.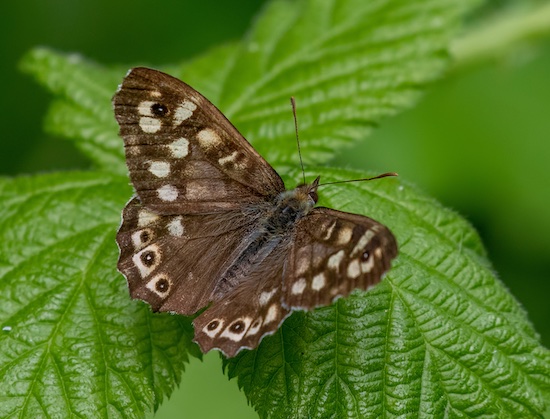 Having only recently discovered shield bugs, I was surprised by how many different types of these can be found in the wood! A close study will reveal their intricate colours and patterns, some looking like little jewelled scarabs! I am guessing they all have names, but I couldn't begin to identify them.
I love dragonflies, and have been lucky enough to spot Broad Bodied, Scarce and Four Spotted Chasers at Monks Wood Nature Reserve.
Then of course there are the Oak Bush Crickets, Dark Bush Cricket, Speckled Bush Cricket .... I could go on ... but won't!
Other curious bugs include the Scorpion Fly and the Snakefly with its long neck and the green and brown Crab Spider!
One critter I was particularly excited to discover, was the larvae of a glow worm. This place really is an Aladdin's cave for the entomologist!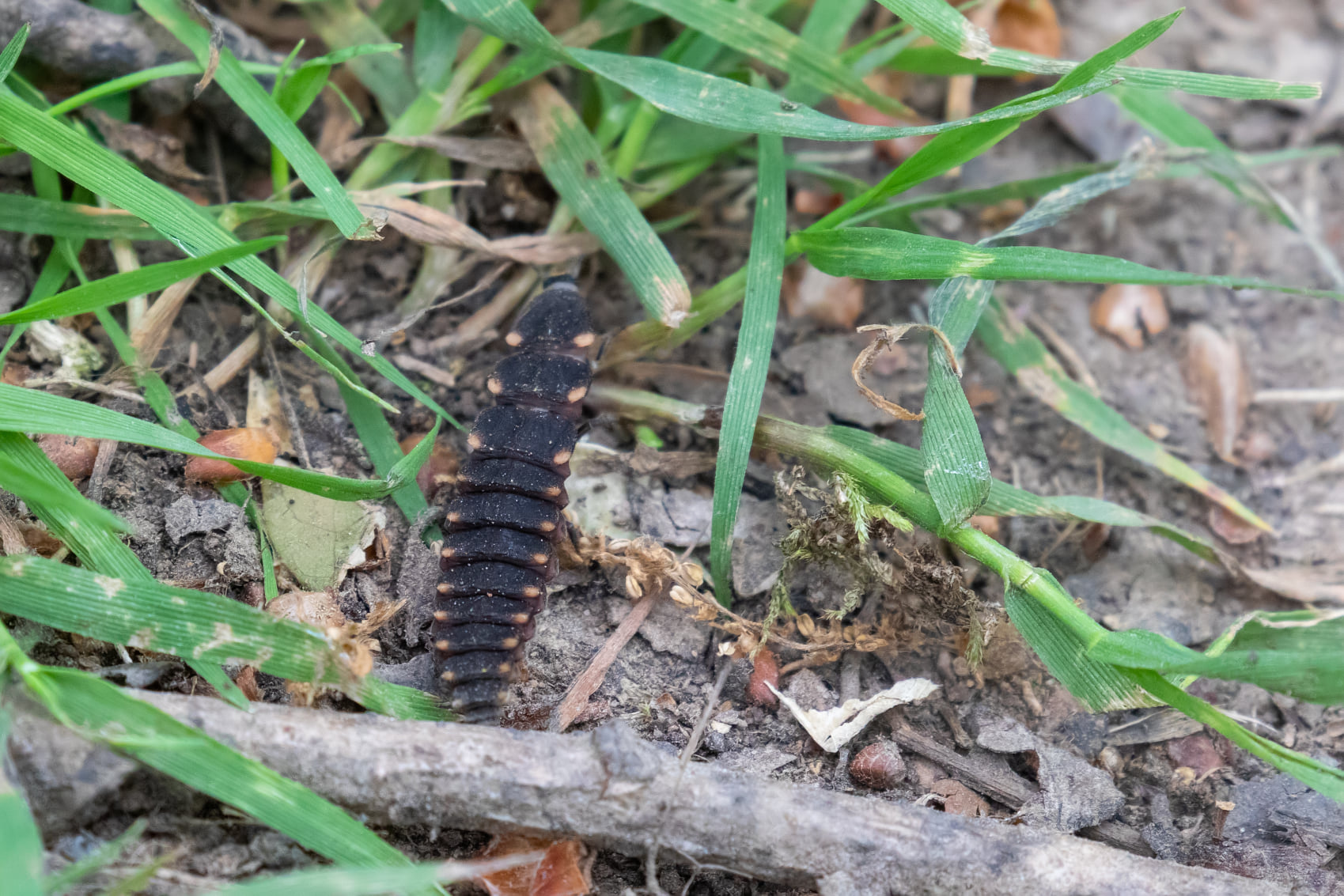 Glo Worm Larvae on the woodland floor
In addition to bugs, you might come across reptiles and amphibians such as Great Crested Newts, Grass snakes and Lizards.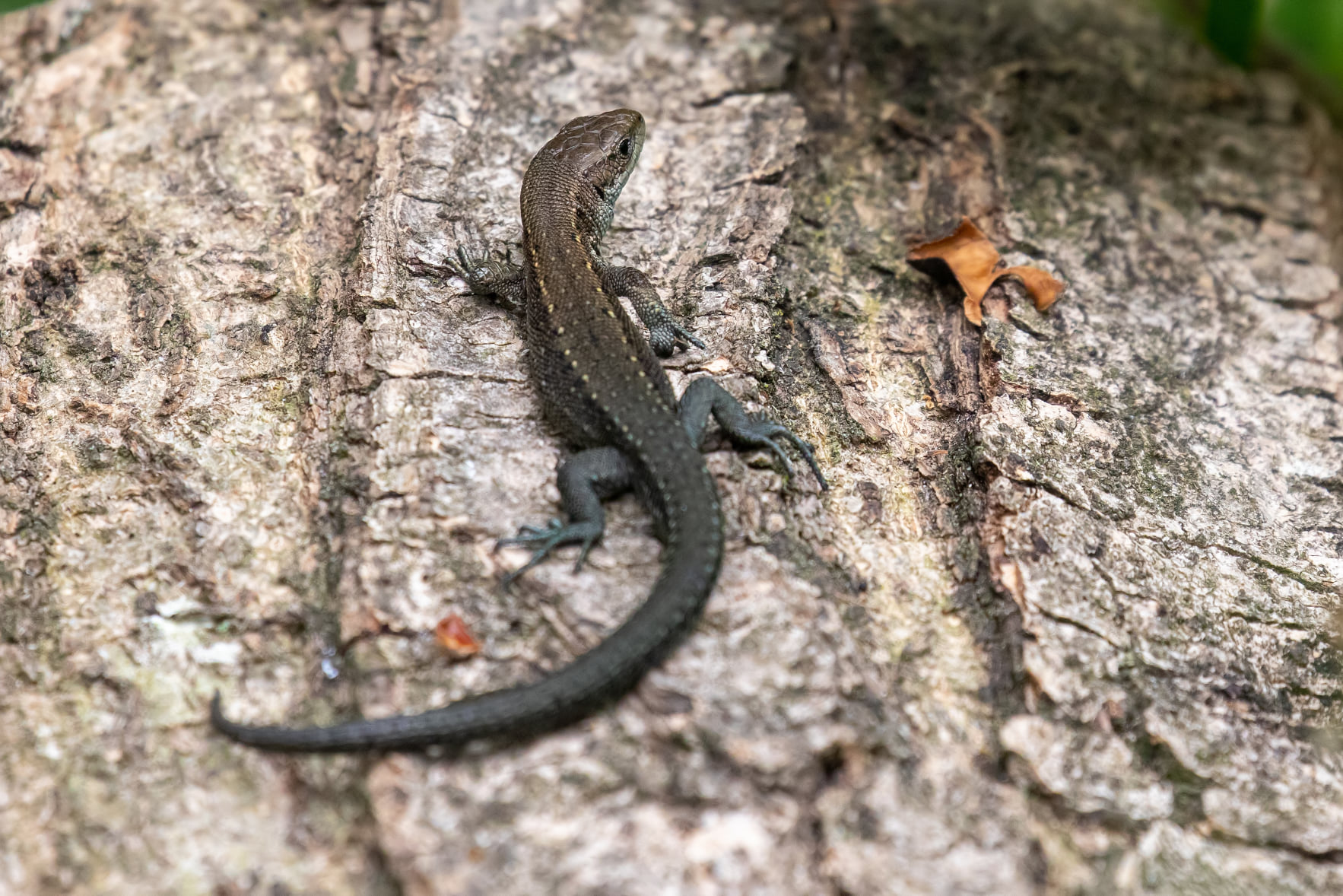 Common Lizard sunning itself on a fallen tree
The creatures above can be found in rotten wood piles, left specifically to provide them with homes, on the trunks of trees or even under loose bark, in and around the ponds and just walking around on the ground. Keep your eyes peeled!
Birds
If you prefer to look up, instead of at the ground, there is also plenty of bird life in the bushes and trees. You might hear them, before you see them, especially when the trees are in leaf.
In the spring, if you are extremely lucky, you might be serenaded by a Nightingale! But more common birds that could be in residence at various times of year include the Green and Great Spotted Woodpeckers, Whitethroat, Lesser Whitethroat, Goldcrest, Chaffinch, Jay, Treecreeper, and Bullfinch. Redwing and Fieldfare are regular winter visitors and you might even see a Brambling with them.
Mammals
During your walk, you might also encounter a Muntjac deer, although fencing was erected to try to keep them out of the wood as they damage plants and young trees by grazing on them. Brown hares, rabbits and foxes have also been seen in the fields and clearings. 
Wildflowers found at Monks Wood Nature Reserve
One reason for visiting the woods in spring is to see the bluebells. Before the deer fence was erected, the bluebells were in danger of disappearing, but they hung on and seem to be making a comeback.
You might also spot Primroses and Wood Anemone at this time of year.
As the year moves into summer keep an eye out for wild orchids around the wood. There were various types up until 2003 but I am not aware of a survey being done since then. I did see a photo of a lovely Greater Butterfly Orchid taken in 2017.
Another eye-catcher, if you are lucky enough to spot it, is Grass Vetchling with its crimson flowers blooms around June. 
When are you next visiting?
I dithered when it came to making a page about Monks Wood Nature Reserve. It is so peaceful and interesting that in a way I want to keep it to myself! But a good thing is best when shared, eh? If you do pop along don't forget to comment below to let us know what goodies you found in the woods. 

Did you like this page?
Why not show your love by clicking on the button below?