Trip on the Yorkshire Belle to Flamborough Head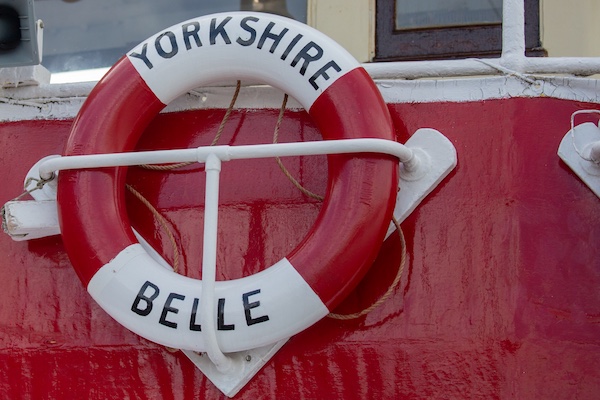 When we arrived back at the hotel on Friday evening there was an e-mail waiting for us. 
"Due to the swell", it said, "although we are still running the Puffin Cruise along to Flamborough Head we understand that you may have changed your mind about the boat trip, especially if you get seasick. If you don't turn up we will refund you."
As Saturday dawned bright and with only a gentle breeze in Bridlington Harbour, we weren't going to let the warning put us off. A decision we came to regret by lunchtime as around the headland it got very "choppy" with the boat rolling from side to side making me feel rather sick. 
If I had found photographing flying birds from dry land tricky, adding in a rapidly moving boat to the equation only helped to increase the difficulty! Luckily there were thousands of Guillemot and Razorbill on the ocean for me to practice on.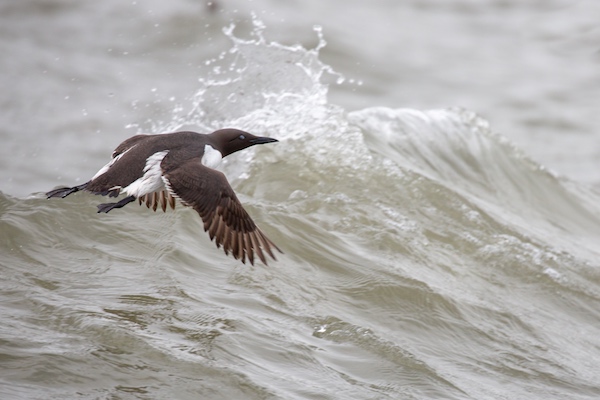 Guillemot above the rolling waves

A hop, skip and in flight!
The 71-year-old Yorkshire Belle was a fairly large boat with 3 tiers of seats in the prow meaning that you could only see the sea on one side. I had positioned myself on the left (or port) side so that we could view the cliffs on our way out to sea. Although this worked for the bird photography it meant I missed the sighting of a porpoise on the starboard side, sadly. Also disappointing was that due to the weather we didn't make it all the way to Flamborough Head, the skipper wisely deciding not to risk it.

Once we turned around and headed back to harbour I was on the correct side to glimpse a pair of Manx Shearwater heading out to sea. By the time I realized what they were it was too late to take a photo. An opportunity missed but maybe I will have better luck next time. 
The boat kept away from the edge of the cliffs to avoid the rafts of floating birds. Something that could not be said of a pair of jet skiers who ploughed straight through them scattering birds in all directions. The RSPB staff on board the Yorkshire Belle were rightly angry, explaining that this was against the rules during the breeding season.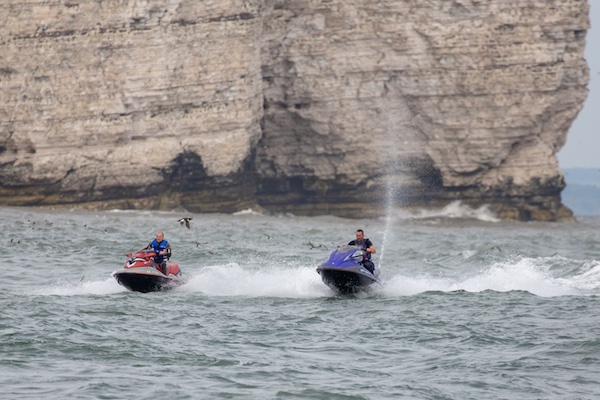 Although I enjoyed the boat trip to Flamborough Head I wasn't sorry when we turned around and set course to Bridlington. As we neared our destination the sea calmed down and it was a more gentle ride back, thank goodness.