The Sea Bird City at RSPB Bempton Cliffs  has long been somewhere I wanted to visit.
In June 2017 I got my chance.  We booked a long weekend in nearby Bridlington, to coincide with the breeding season , knowing a month later the birds are out at sea.  
Our B and B was only a 5 mile drive away from Flamborough Head where Bempton is situated.
Puffins
The Atlantic Puffin was the real draw for me.
"There's a Sea Parrot" exclaimed a man to my left. What? He was pointing to the side of the cliff, so I focused my lens on it, using it as a telescope. My first puffin! It is one nickname given to them, due to their colourful beaks. Another is The Clown of the Sea, no doubt for the way they waddle with their big orange feet. 
Even with my 150-600mm lens, it was too far away to get a detailed photograph. I had picked this lens as climbing the cliffs to get closer was NOT an option! I am not a lover of heights and even standing on the overhanging viewing platforms filled me with apprehension. 
However, it isn't the sharpest lens in my camera bag and even supported on a tripod didn't give me the quality I wanted so the following day I swapped to my 70-200mm f2.8 with 2x extender. On the Canon 7D mark 2 this still allowed autofocus and proved a much better combination.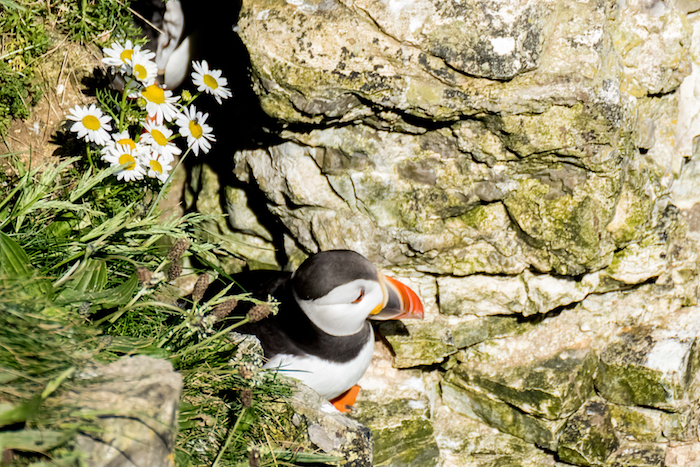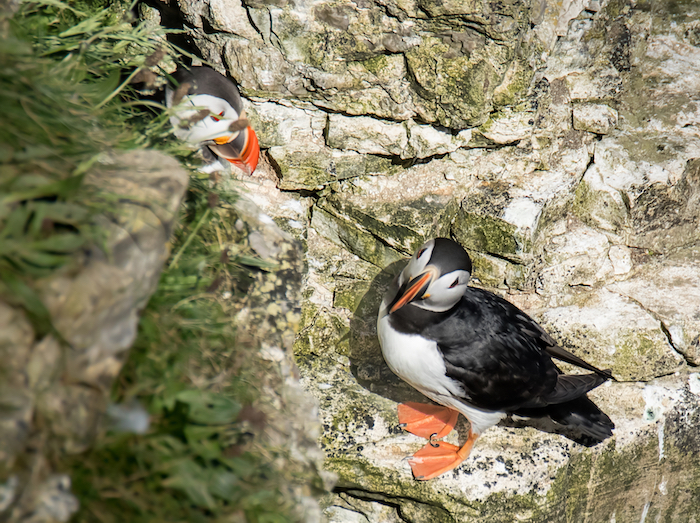 As you can see from the above photos taken on the first day, I had to contend with harsh shadows. Only a photographer could find a  sunny day disappointing, eh? At least it meant that hubby didn't mind traipsing the cliff path for hours.
He wasn't so happy to be out in the biting wind and rain the following day. When trying to show our RSPB membership cards they were waved away with the comment "Only members are daft enough to visit in this weather!"
Northern Gannets
By far the largest birds at RSPB Bempton Cliffs, with a wingspan of 2 meters, were the Northern Gannets; stunning white birds with black wing tips and creamy/yellow heads.
The sheer number of these birds was a sight to behold. Not having a sense of smell was a benefit, with many commenting on the stench rising from the cliff face.  After a while my ears became accustomed to the barrage of sound thousands of quarreling sea birds produce.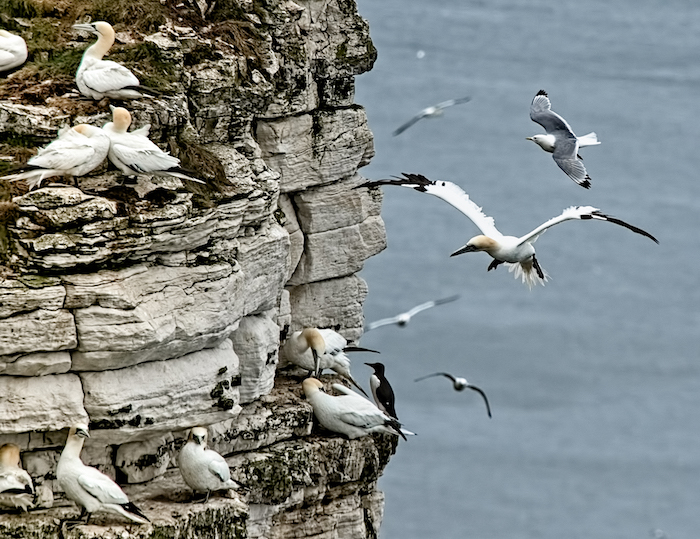 Many gannets flew in with gifts of seaweed for their partners, part of their complex courtship display. Those waiting on land pulled up grass as their contribution to the nest building process.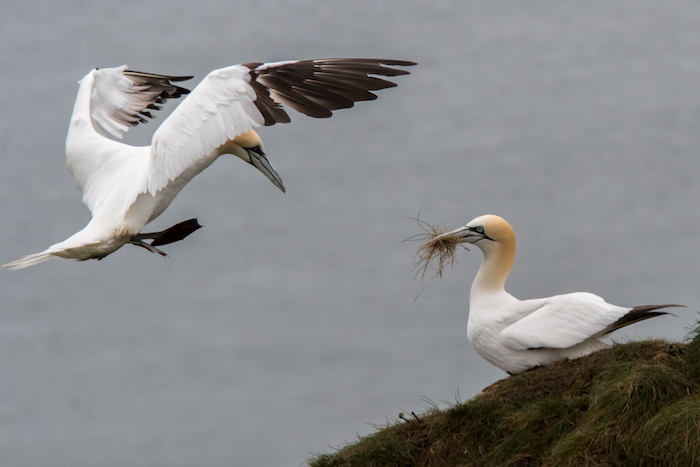 Each return to the nest area involved bill rubbing and caressing as they welcomed each other. Then they both pointed their bills to the sky and touched the tips together.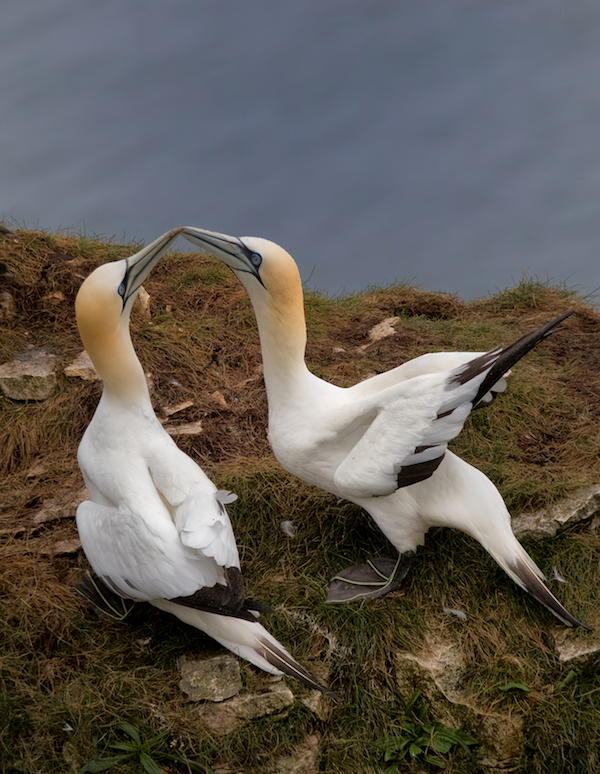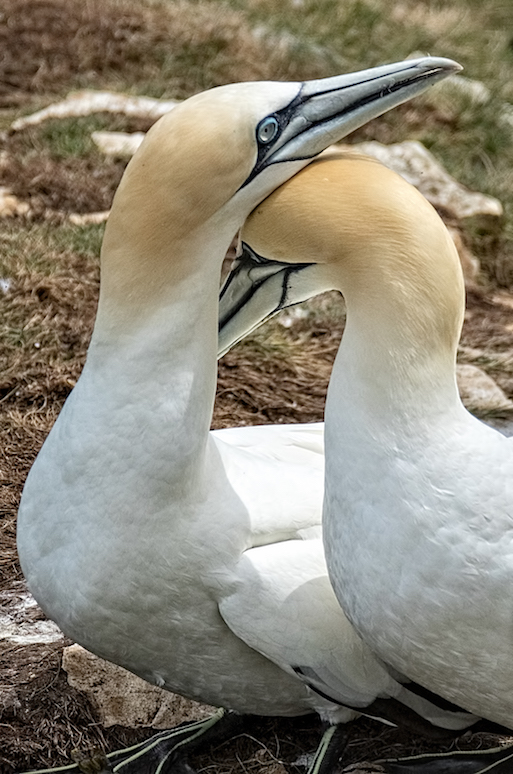 It wasn't until we got a close view of these stunning birds that we realized that they had green stripes on their feet and sky blue rings around their eyes.

Other sea birds at RSPB Bempton Cliffs
Besides the puffins and gannets, we saw many other birds at RSPB Bempton Cliffs. Smart in their contrasting plumage were the Razorbills and Guillemots. Razorbills have a heavy beak with a fine white line across the tip whereas the Guillemot's were more pointed. On close inspection the darker feathers of the Guillemots were brownish, not black.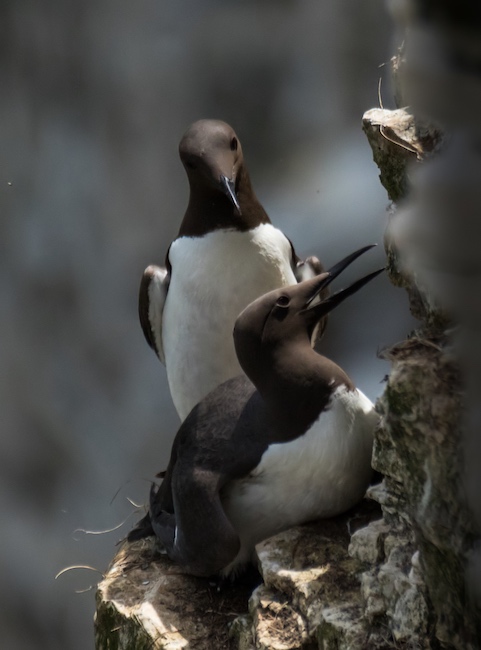 Guillemot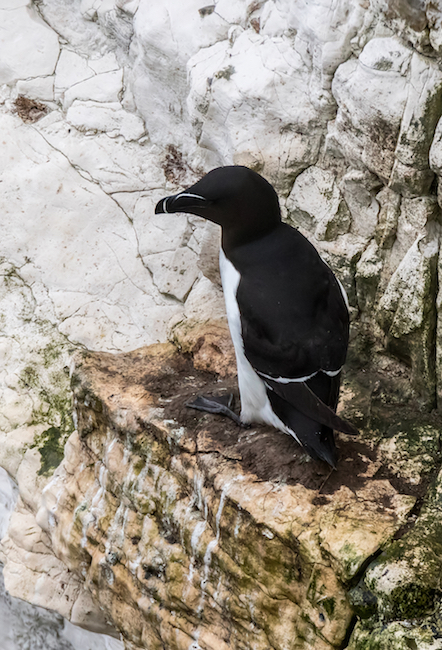 Razorbill
Kittiwakes, small gulls with yellow beaks, nested together in colonies on the cliffs; they were the only birds we saw with eggs. 
There was a lone Fulmar in residence, but I didn't manage a close up photograph of it.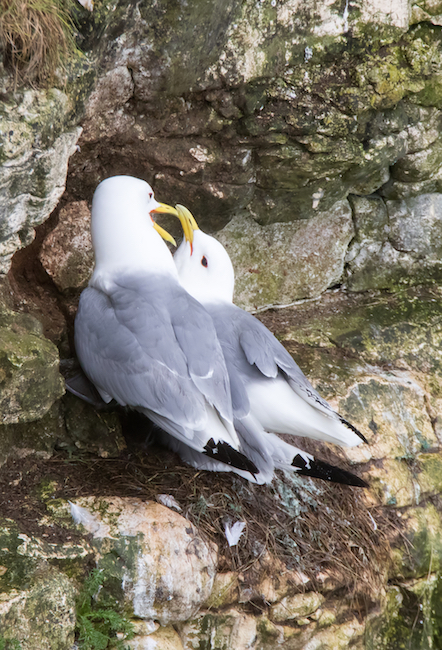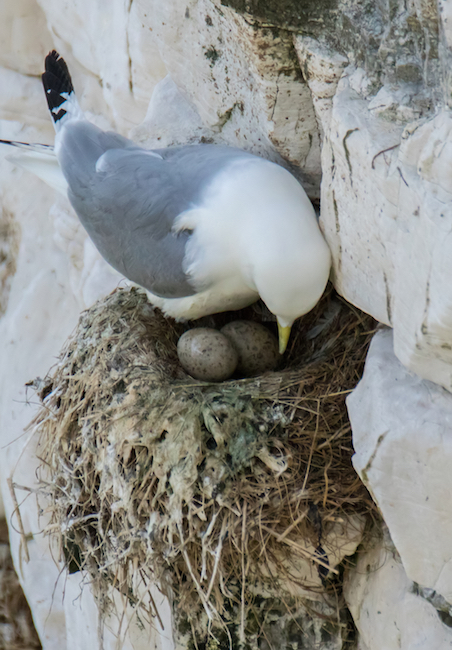 A last minute surprise
On our way back to the Visitor Centre a bird flew past in front of us, squawking. I managed two quick grab shots and on studying them while enjoying our refreshments I realized it had been a Parrakeet! An escaped pet as was the budgie  seen (and caught) the week before our visit.
We enjoyed our trip to RSPB Bempton Cliffs so much we returned in June 2018. You can read about that visit here. 
Did you like this page?
Why not show your love by clicking on the button below?