Autumn Migration at Spurn Point Nature Reserve
Spurn Point nature reserve, in the East Riding of Yorkshire, is a Site of Special Scientific Interest and home to a wide variety of wildlife species. It is a narrow spit of sand and shingle, with the North Sea on one side and the mouth of the humber on the other, forming part of the Holderness coast. 
In 1959 The Yorkshire Wildlife Trust purchased Spurn Point (also known as Spurn Head) from the military, who had previously used it to defend the Humber during both world wars. They established it as it as spurn national nature reserve. It draws visitors both as an important wildlife haven and for its military history.
Our trip to Spurn Point
We timed our trip in September 2019 to coincide with the autumn migration. However, the weather was not on our side that week and we had to contend with high winds, a spring tide and rain during our visit.
Carvings in Patrington churchyard
We left home early on Friday morning and saw our first bird when we stopped off for supplies at Patrington, close to our destination - a barn owl carved into a tree trunk in the churchyard.
  A sign just outside the village marks the path of the Greenwich Meridian and the last piece of land it passes over before it reaches the North Pole. There is also a plaque that was erected in 2000 but I found it tricky to photograph as the gold lines don't show up that well against the granite.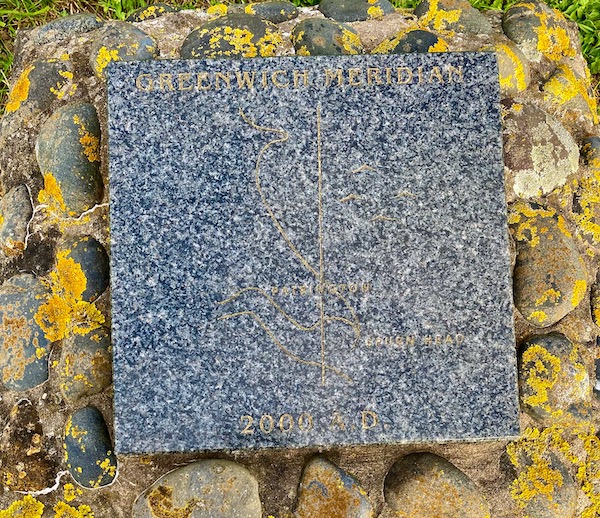 We passed through Easington, our home base for the next week, and arrived at Spurn Point nature reserve after a 3 and a half hour drive. Our first port of call was the Yorkshire Wildlife Trust Discovery Centre, where we had a warming lunch of homemade soup in the Blue Bell Café. 
We headed for the Sea Watching Hide where we joined several volunteers counting the birds. "Five Gannets just past the platform, flying south," uttered one man. "Red-throated Diver in front of the fives" called out another. We worked out that the platform was an oil rig, and the "fives" were a group of wind turbines out at sea.  
I really needed a spotting scope to see the distant birds as my camera lens was not long enough, so we moved on to the Wash-Over point. The tide was out and there were waders and ducks feeding on the muddy estuary. The low light wasn't good enough for serious photography so I settled for a few record shots, then we headed to our accommodation.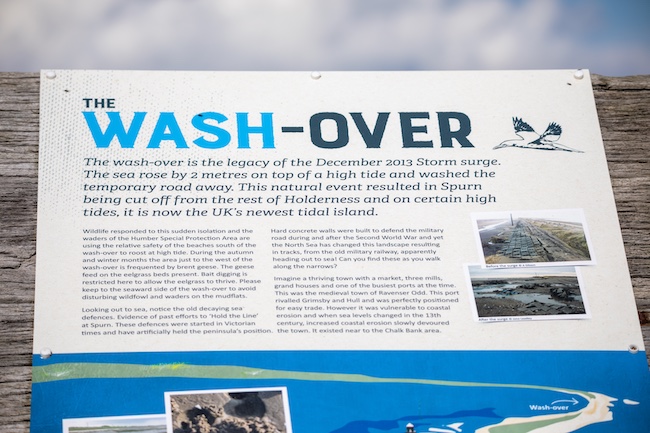 Guided walk - Day 2 at Spurn Point
We had seen a guided walk advertised for 9am so headed off to the Discovery Centre. Only to discover that we were in the wrong place! Retracing our steps, we arrived at the Spurn Point Bird Observatory with minutes to spare, expecting to see a group of people ready to set off.

However, due to the wild weather we were the only ones mad enough to venture out. Johnnie had planned a route around "The Triangle", passing the Crown and Anchor pub before walking the footpath along the edge of the Humber estuary looking out over the mud flats. We saw a lone Curlew, Little Egrets and a Sparrowhawk.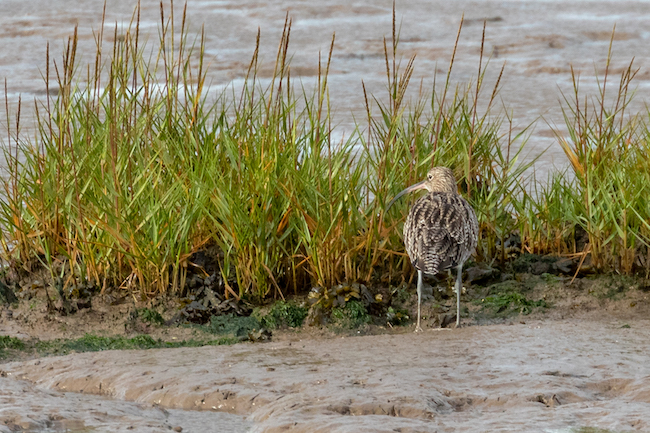 Curlew on the Humber estuary
We turned left towards The Warren, spotting a late Hobby, a bird of prey similar to the larger Peregrine. 
Crossing the road, we climbed the bank to the Sea Watching Hide. I was lucky enough this time to see a Short Eared Owl fly past close to shore. 
Walking along the cliffs, my next bird sighting was a beautiful Wheatear.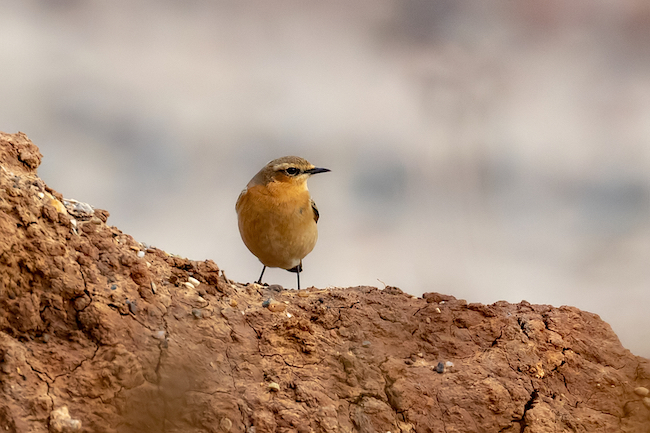 Close views of a Wheatear on the beach at Spurn Head
We turned back to the road, had a brief stop off at the Canal Hide which provided two Moorhen, then walked on past the discovery centre until we reached a sunflower field. It was raining hard, but I forgot all about the weather when I spied a Roe Deer amongst the remaining flowers. She soon spotted us and swiftly ran off, but not before I got some photos.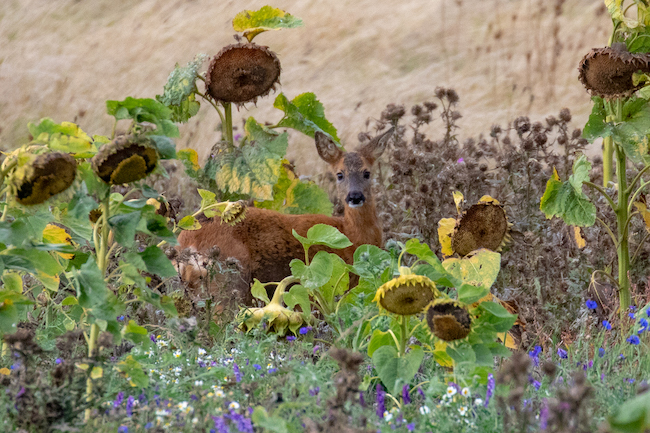 By lunchtime, the weather was extremely unpleasant, with almost horizontal rain stinging our cheeks and forcing us to walk backwards. We still had one side of the Triangle to cover, so imagine our delight when a passing ornithologist offered us a lift back to the Observatory. After that, we returned to our cottage for a shower and some lunch.
We took a quick trip out in the car for supplies (and a warm hat) then sat in the warm, downloading and processing the day's photos. 
We slept well that night, perhaps due to the fresh sea air!
Kilnsea Wetlands - Day 3
Sunday dawned wet and wild again - This was fast becoming a recurring theme!
Our first stop was Kilnsea Wetlands Nature Reserve, where we sheltered in the hide. Our timing was bad as we had missed high tide, therefore many of the birds had already returned to the mudflats to feed.

Small groups of common waders, including Redshank, Knot, Dunlin, and the odd Turnstone remained. Another visitor was a Grey Heron. It kept catching a feather and then spitting it out. Perhaps when it was in the water it looked like a fish? We nicknamed him Shakespeare!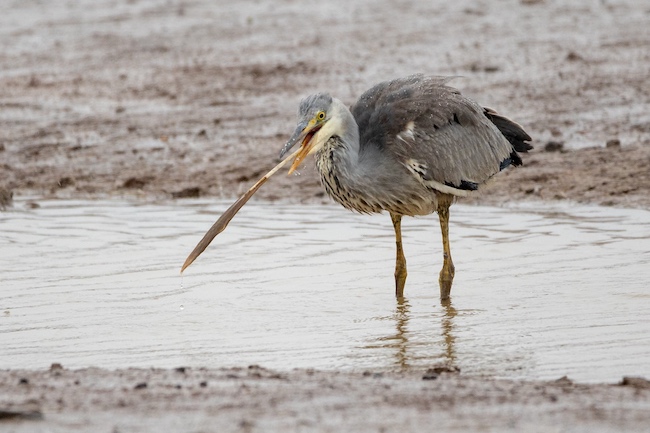 Shakespeare with his quill.
We retraced the previous day's journey, starting from the Spurn Discovery Centre this time. The rain eased off, but the wind was even stronger! 
A female kestrel hovered above us for part of our walk, showing well. We also saw Reed Buntings and Meadow Pipits. There was an elusive Snipe along with the two moorhen at the Canal Scrape but sadly, there was no sight of the resident Water Rail.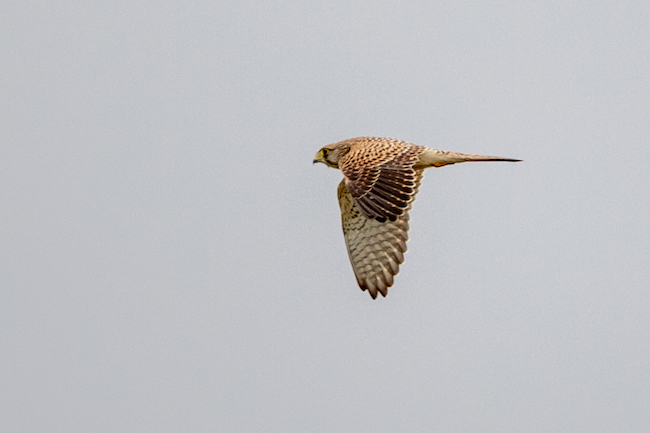 Cold and wet, we retired to the Crown and Anchor for a late lunch. Here we sat in comfort and continued our birdwatching through the large picture windows. We also had a good view of the Spurn Lighthouse, built in 1895 and decommissioned in 1985, from here. 
Day 4 of our Spurn Point visit
Kilnsea Wetlands at sunrise
With the promise of better weather, we set off just after sunrise the next morning.
It was just past high tide when we reached Kilnsea Wetlands this time and we enjoyed the golden hour in the hide. Using my Canon 5D mk IV, and 150-600mm Sigma Contemporary lens the birds I photographed included Curlew, Shelduck, Pink-Footed Geese, Little Egret, Mute Swan, Redshank and Avocet.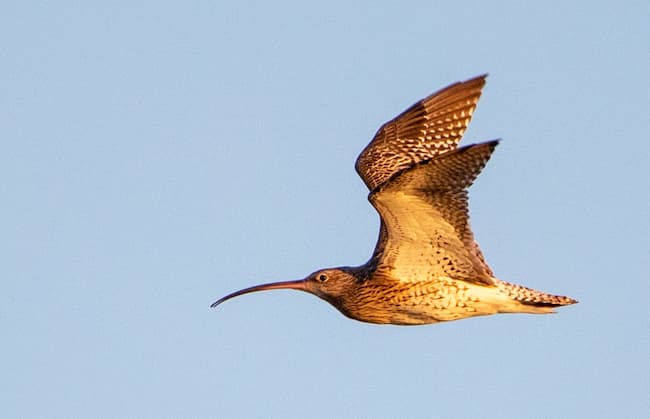 Curlew during the Golden Hour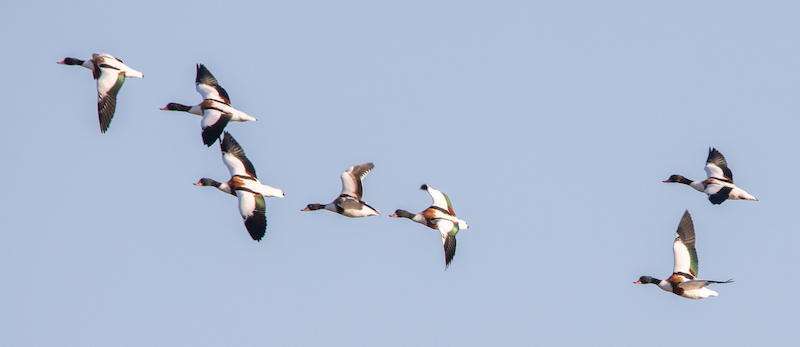 Shelduck flock
All too soon the golden light faded, and we resolved to arrive earlier the next morning.

The Kilnsea Sound Mirror

 We left the hide and walked towards Beacon Ponds making a detour to the Kilnsea Sound Mirror - a huge concrete dish designed to focus the sound of aircraft engines as they approached during the First World War. This was in the days before radar.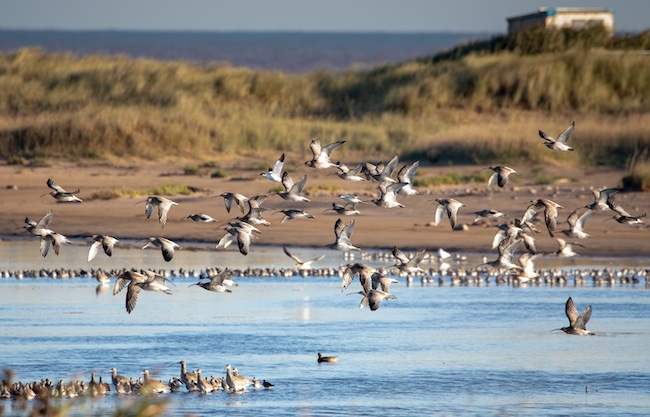 Flock of Curlew over Beacon Ponds
As we walked, more birds deserted the wetlands and flew overhead. Quite a spectacle! The image above shows a lone Avocet in amongst the Curlew. Search for the white bird with black wingtips near the top edge of the flock. 

Rounding the far corner, Reed Buntings and Goldfinches covered the bushes. There had been talk of a rare Rustic Bunting on the reserve, but we were not lucky enough to see it.
When the ground became too wet underfoot, and we reluctantly turned back. A small group of Whimbrel feeding in the field was a nice find just before we reached the car park.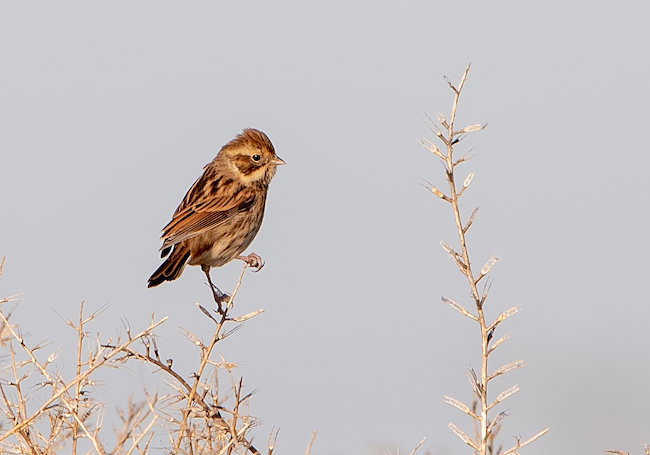 Female Reed Bunting
We returned to the Discovery Center then checked out the sunflower field to find the seeds  being devoured by goldfinches, greenfinches and tree sparrows. At one point I heard a rustling beside me, and glimpsed a Whitethroat in the reeds.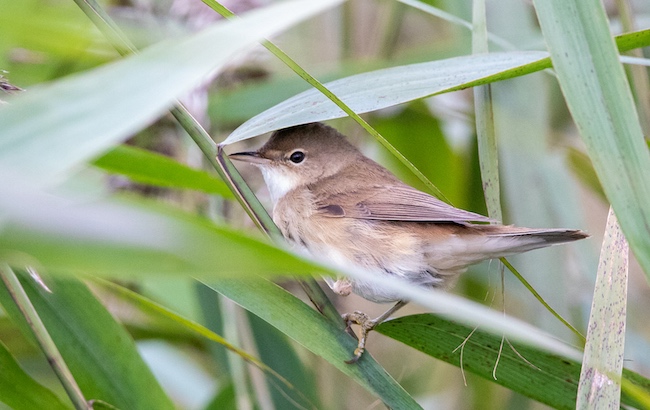 A Whitethroat in the reeds beside the field gate
Walking to Spurn Point
We changed direction and attempted to walk down to Spurn Point. However, the journey to the point was three and a half miles each way, a little too far for me. I made it to the refuge shelter the other side of the breach, while hubby went a little further hoping to reach spurn lighthouse, but gave up also. 
Along Spurn Point there are many remains of World War 2 structures and old sea defences. Due to the erosion of the sand dunes, they are gradually falling into the sea. It is still possible to see pill boxes, gun emplacements and store rooms, along the beach.

World War 2 remains
We ended up shedding layers of clothing as the weather warmed up. A rare treat!
At one point, a tractor carrying furniture overtook us! The only other vehicle that is permitted is an all-terrain Unimog that operates a Spurn Safari to the tip of the Point. Sadly, it wasn't running the week we visited.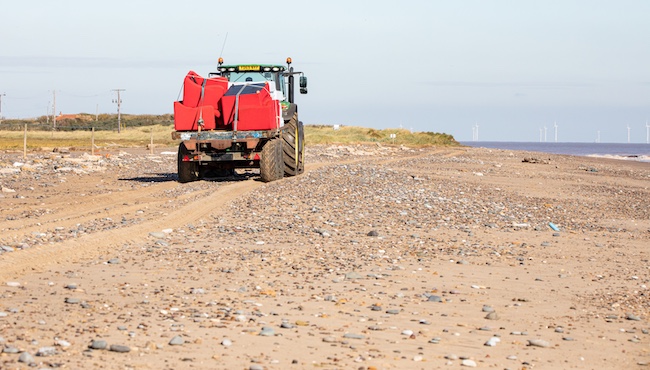 After our long walk we took a detour up the Big Hedge Footpath, where two Stonechats were busy feeding. Other birdwatchers were still discussing the Rustic Bunting, but if truth was told I wouldn't have recognized one from a Reed Bunting. I don't think we saw it.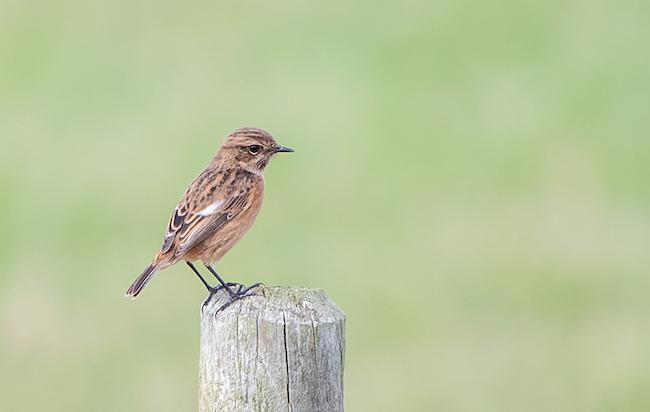 Female Stonechat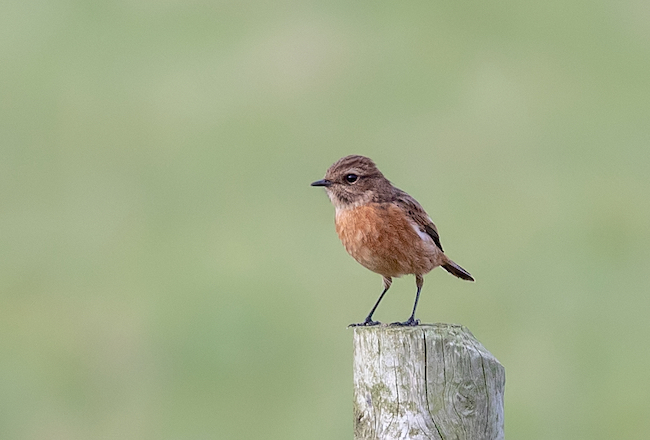 Male Stonechat
 Some further sightings of deer finished the day off nicely. Later, I drew a picture based on one of these photographs. Prints are available from my other site.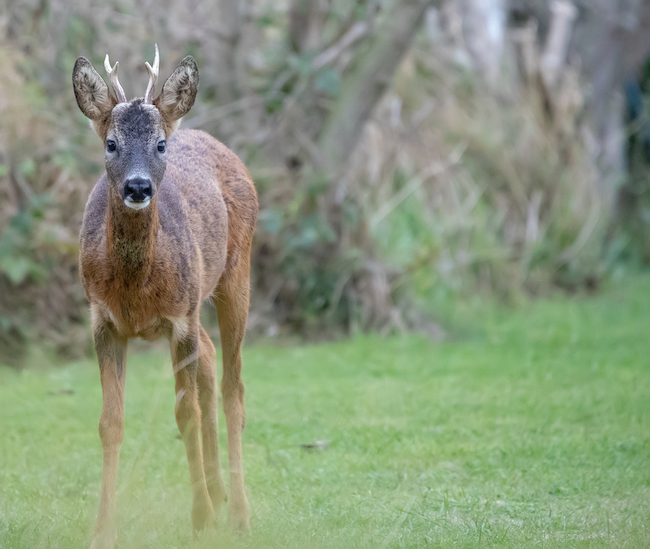 Roe deer buck (male)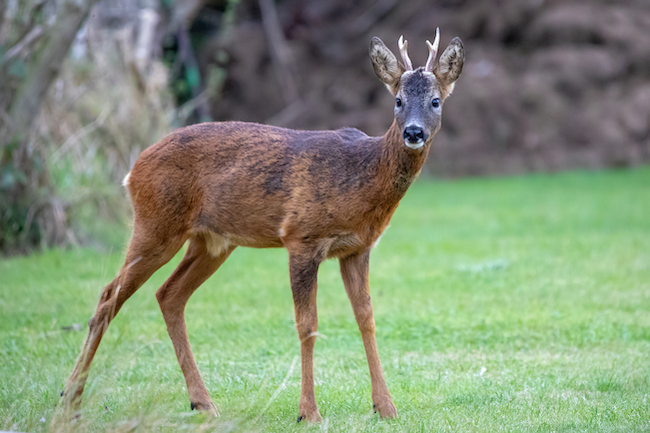 Buck side view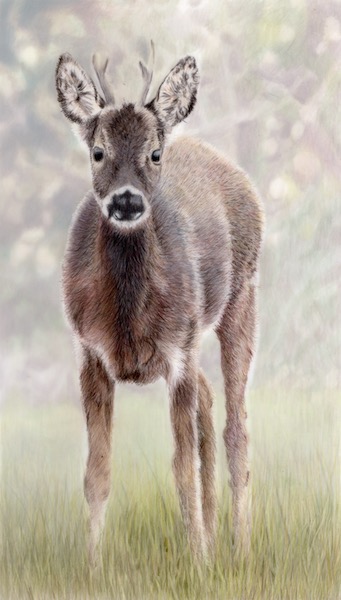 Pencil drawing by Carol Leather
The light was dropping by this time. So the deer photos are rather grainy, but I still wanted to share them with you.
Flood alert! - Day 5 
We have reached Day 5 of our holiday at Spurn Point. The previous evening, we received an e-mail from the owner of the cottage we were staying in. She explained that there was an early morning flood warning for the village because of the combination of foul weather and a Spring tide.
The advice was not to leave anything valuable on the floor. Being a bungalow there weren't many options here, so we extensively used the kitchen worktops for camera equipment and the laptop! 
Although the weather was awful, the sea didn't reach us, thank goodness. We spent much of the day indoors - venturing out to Sammy's Point in the afternoon where all we saw was a Curlew.
Birds of prey - Day 6
Better weather encouraged us out this morning. Our first stop was again Kilnsea Wetlands. Although we had missed Golden Hour it was high tide, resulting in large numbers of birds remaining on the reserve. So many that it was difficult to pick out individuals amongst the throng. 
Large flock of waders
When they all rose into the air at once, it was a wonderful sight! But what had spooked them? A pair of Hobbies! These birds of prey are so fast that they are difficult to photograph. My best attempt is below.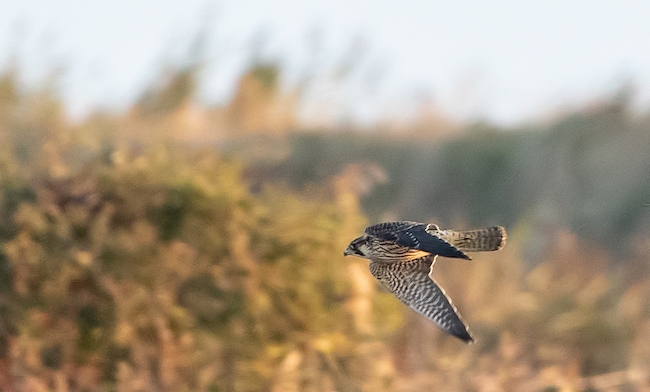 Close up of Hobby in flight
The spring tide
We spent a couple of hours in the hide, then moved on to the car park near the old Blue Bell Café building. The full force of the sea confronted us!
Two people were following the same path we had walked a few days ago, only now much of it was under water. The sea had also flooded almost all of the car park!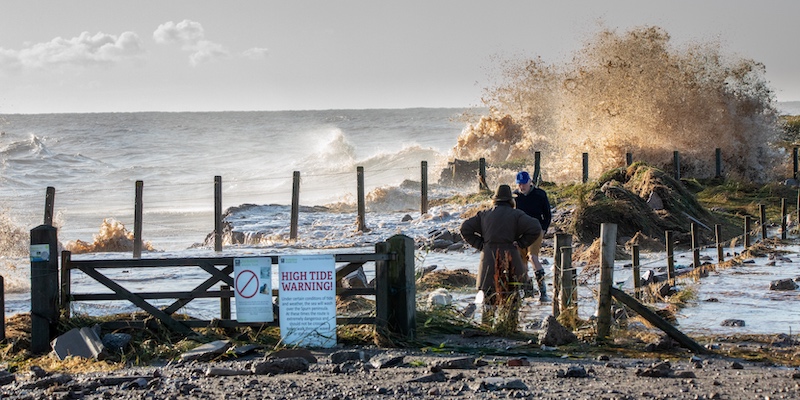 Our last day at Spurn Point - Day 7
Drizzle and the ever biting wind greeted us on our last day. As Kilnsea Wetlands are on the way from Easington to Spurn Point we stopped off there as normal. We caught the beautiful golden light and surprisingly there was no one else at the hide. There were plenty of birds to watch though.
It pays to enter a hide quietly as sitting there in front of us when we arrived was a lovely Brown Hare. I managed a quick photo before it saw us and raced off, first towards us and then in the opposite direction.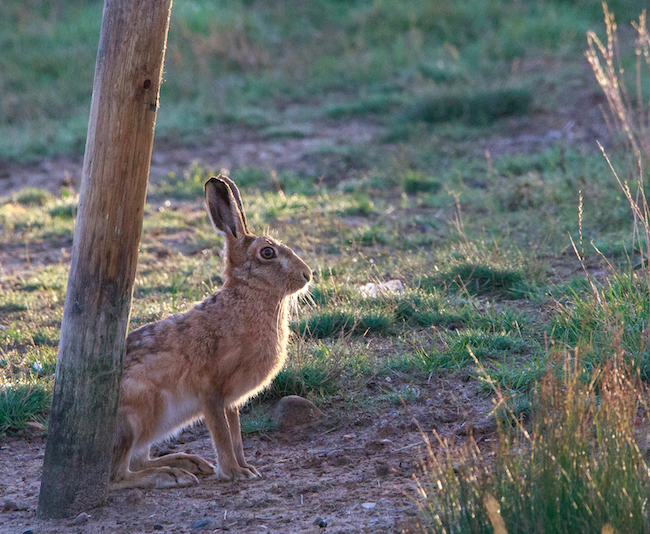 A sitting Brown Hare
The Hare soon raced off
Our next port of call was the Canal Scrape behind the discovery centre at Spurn Point. Again this was pretty empty, but a Little Egret kept us company while it fished for breakfast. The last vestiges of the morning golden light had just about left the sky by this time.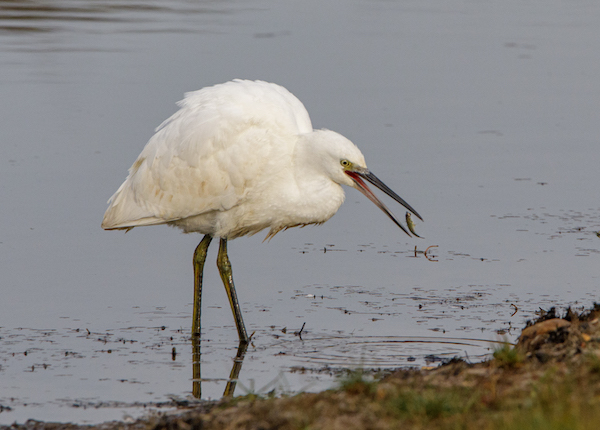 Rare bird sighting!
We were headed down to the Sea Watching hide for a final visit, when we became aware that everyone else was hurrying in the opposite direction. Word was out about another rare visitor to the reserve. 
We asked for information and the excited response was "Booted Warbler amongst the sunflowers!" 
Now I am definitely no Twitcher, but I got caught up in the excitement, so we changed course and followed the crowd. Hubby wasn't that interested so he stopped off at the car to rest his tired legs. I pressed on to the corner of the Triangle where I had previously seen the Roe deer. 
A huddle of men with cameras and binoculars were standing by the gate where I saw the whitethroat on Day 4.  Their lenses were trained on the tangle of plants a few metres into the field. After joining them, I searched the area for a bird without success. 

Please understand that not only had I never seen a Booted Warbler, I had never even heard of one until about 30 minutes ago. I didn't know what said bird looked like, nor its size, so I asked for help. 
All ten men decided to tell me where to look at once! 
"See where there are two sunflower seed heads behind that patch of mauve flowers? It was down the bottom there a moment ago". 
"Showing up top again, on the thistle patch." whispered someone else. 
"Your lens is too high, there you go look around that spot," said another after pushing my camera lens lower. 
Then a soft voice from behind explained... "You are looking for a little fella with a greyish beige back and head with greyish white underside. Watch for when it moves and then follow it until it lands a short distance away. It will stay in position for a while as it's quite confiding."
As chance would have it the bird flew up from the ground and perched where I could at last see it, now I had an idea of what to look for. My camera didn't have the easiest job focusing against the messy background, but I was happy to get some record shots to at least prove I had seen the bird, even if I had to crop in to be able to show you in the photos below.  
It was my first rare bird, and there were many there at Spurn Point that day who sadly didn't get to see it.
The rare Booted Warbler in the sunflower patch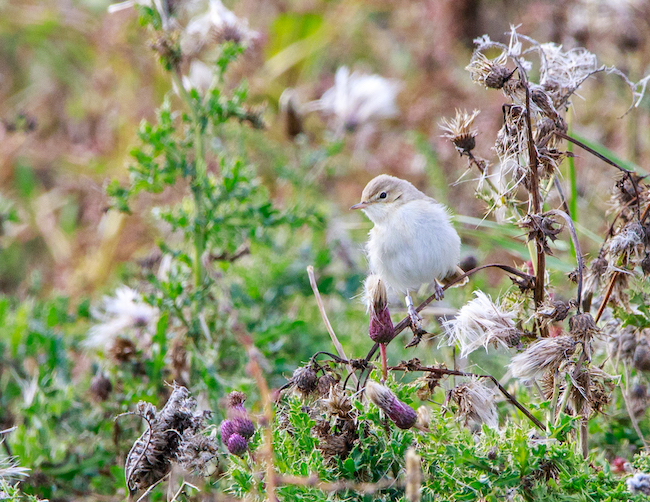 Now I have to say he is a cute little bird, but I still can't wonder why it couldn't have been something more dramatic or colourful that presented itself to us. Never satisfied, us birders, eh?
It was an exciting finale to our week away. I just hope this little spit of land between the sea and the Humber, doesn't entirely disappear due to coastal erosion and continues to bring joy to birdwatchers in the future. 
I am certain this won't be our last trip to Spurn Point, so who knows what i will see next time!
NOTE: We visited again in October 2021 so watch this space for further adventures in the East Riding of Yorkshire. This time we went on a spurn safari.